Thinking
Financial Services: Why the consumer should lead your crypto strategy

With the acceleration of digital currencies, what's the right next step for financial institutions? Since their launch in 2009, cryptocurrencies have experienced losses of more than 50% six times with no signs of stabilizing in the near term given the recent Fed moves and continued skepticism among some traditional players and key opinion leaders.
For instance, Jamie Dimon, the CEO of JP Morgan Chase has taken to calling them "crypto-tokens," rather than currency, and has stated that he views bitcoin as "worthless." At the Berkshire Hathaway annual shareholders meeting in April, Warren Buffett said of bitcoin: "Whether it goes up or down in the next year, or five or 10 years, I don't know. But the one thing I'm pretty sure of is that it doesn't produce anything." He explained further, "Assets, to have value, have to deliver something to somebody."
But this perspective is not shared by all. Many large traditional financial players are beginning to test the waters to find the best way to participate in this new technology. They're exploring how to leverage existing products and form partnerships to solidify their strategy around crypto.
In the first fiscal quarter of 2022, customers made $2.5 billion in payments using crypto-linked cards from Visa — a 150% increase from Visa's crypto activity during all of 2021. Visa also expanded their offerings to include a crypto advisory practice for clients seeking additional services.
Rising consumer interest led Mastercard to partner with leading digital currency companies across Asia-Pacific to launch the region's first crypto-linked payment card, and last year, Mastercard partnered with Bakkt, Gemini, and Mintable, among others, to let banks and merchants into its network of crypto-related services.
Finally, American Express has jumped in and recently announced the Abra Crypto Card, the first crypto rewards credit card on the American Express network that will transact in U.S. dollars and offer crypto back on any purchase category and amount.
Although this new evolution has been a roller coaster ride so far, the expansion of the cryptocurrency ecosystem is only going to continue, shaped by increasing consumer demand. In response, financial services companies and emerging fintechs have shifted from proceeding with caution to evolving their offerings in order to play more of a leading role in crypto.
PayPal is a great example, as they've embarked on a multi-year journey to constantly evolve their strategy to deliver on the desired customer experience. They've charted a course to allow customers to trade crypto, make purchases from over 29 million merchants, and share purchases socially with Venmo.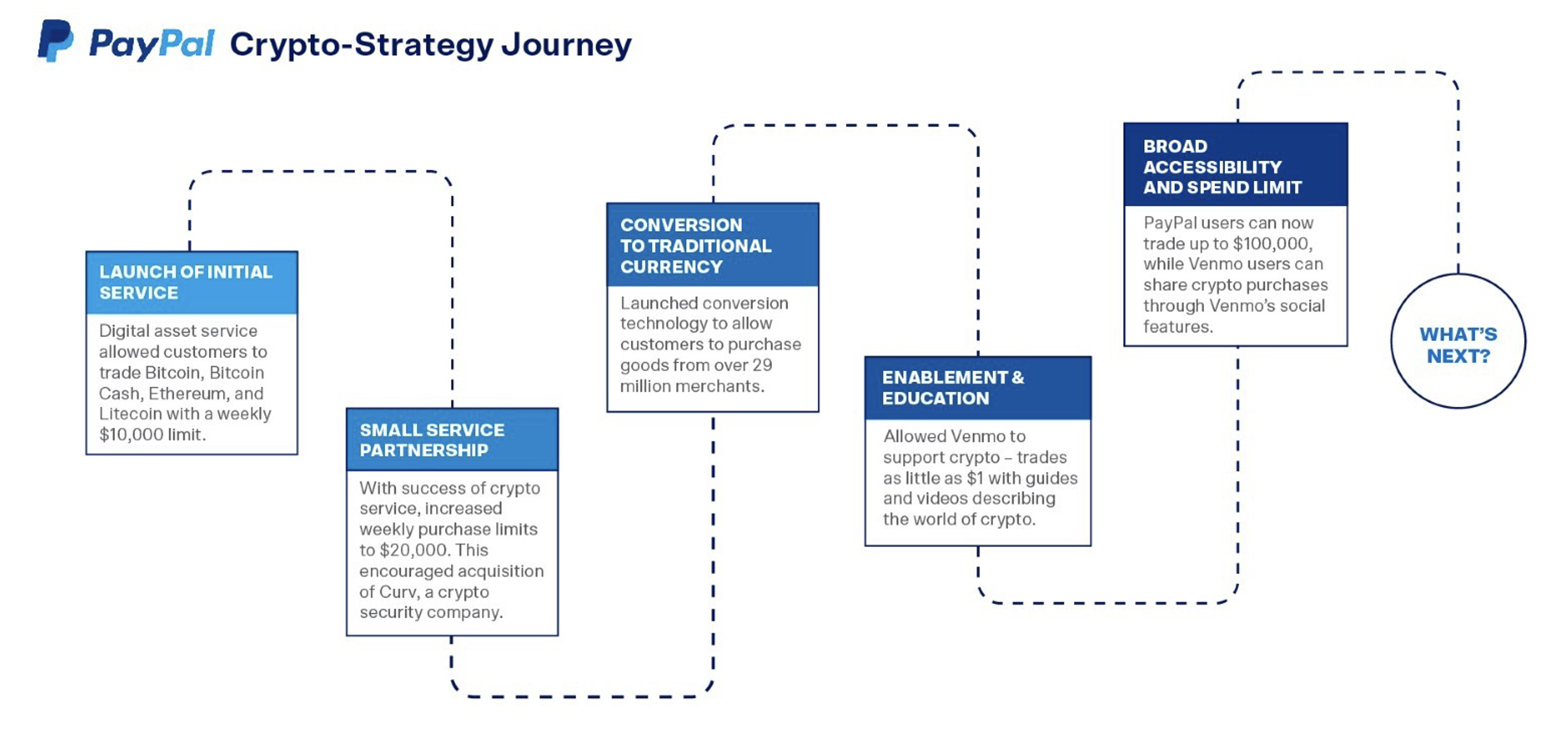 In short, like PayPal, the businesses and brands who can anticipate what consumers will want and identify how the technology, partnerships, and benefits of crypto can deliver on those expectations, will win.
As with any new technology adoption, it will require continuous listening to the consumer, a focused customer-first mindset, and the ability to test and learn so that consumers can help shape your crypto strategy. It isn't a question of should you participate in the cryptocurrency space, but rather, what should be your role in the crypto ecosystem.
Larry Lucas is a Senior Partner at Vivaldi who specializes in business and brand transformation and driving change within organizations.  
Ben Kuenzle is a Partner at Vivaldi who specializes in growth and innovation, brand/marketing strategy, and product marketing.