Thinking
Take a Deep Dive into the Future of Work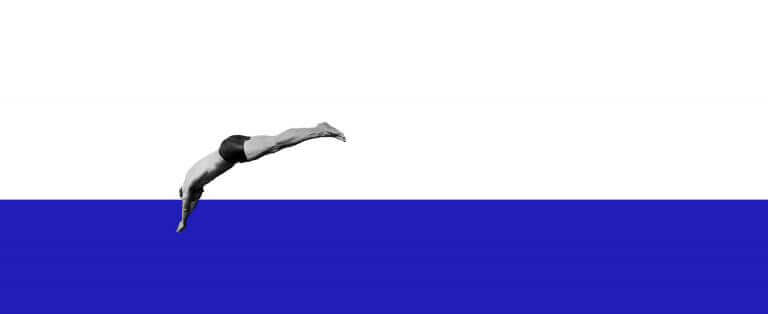 Ready for the Future of Work? The rise of digital platforms is changing how we work, demographic pressures and societal changes are raising expectations of the workplace, and the need for continuous innovation is putting pressure on modern organizations to stay ahead of the game. These drivers will only intensify in the years ahead.
Getting ready for the Future of Work is not only an essential requirement for attracting a new Gen-Z workforce, equipping employees with necessary skills, and holding on to employees in fluid talent markets, but the key to unlocking your organizational potential and succeeding in a new business reality. Driven by societal, technological, and demographic shifts, dynamics in the workplace will change the organizational reality of the future. With that in mind, you might want to ask yourself: How can your organization prepare for the Future of Work?
An organization's success will be largely determined by their ability to adapt to the demands of its next wave of employees. At the heart of these shifts, we've identified there to be pulls between individuality and collectivism on one end and, on the other, between technology and humanity. As we prepare for the Future of Work, we've completed the exercise to identify the four organizational archetypes across these two axes. At the intersection between the axes, we find the Virtual, Aspirational, Playful, and Caregiving organization. We believe these will be the dominant archetypes defining the path for how other organizations can adapt to the Future of Work, by responding to the external drivers that are currently changing the business environment.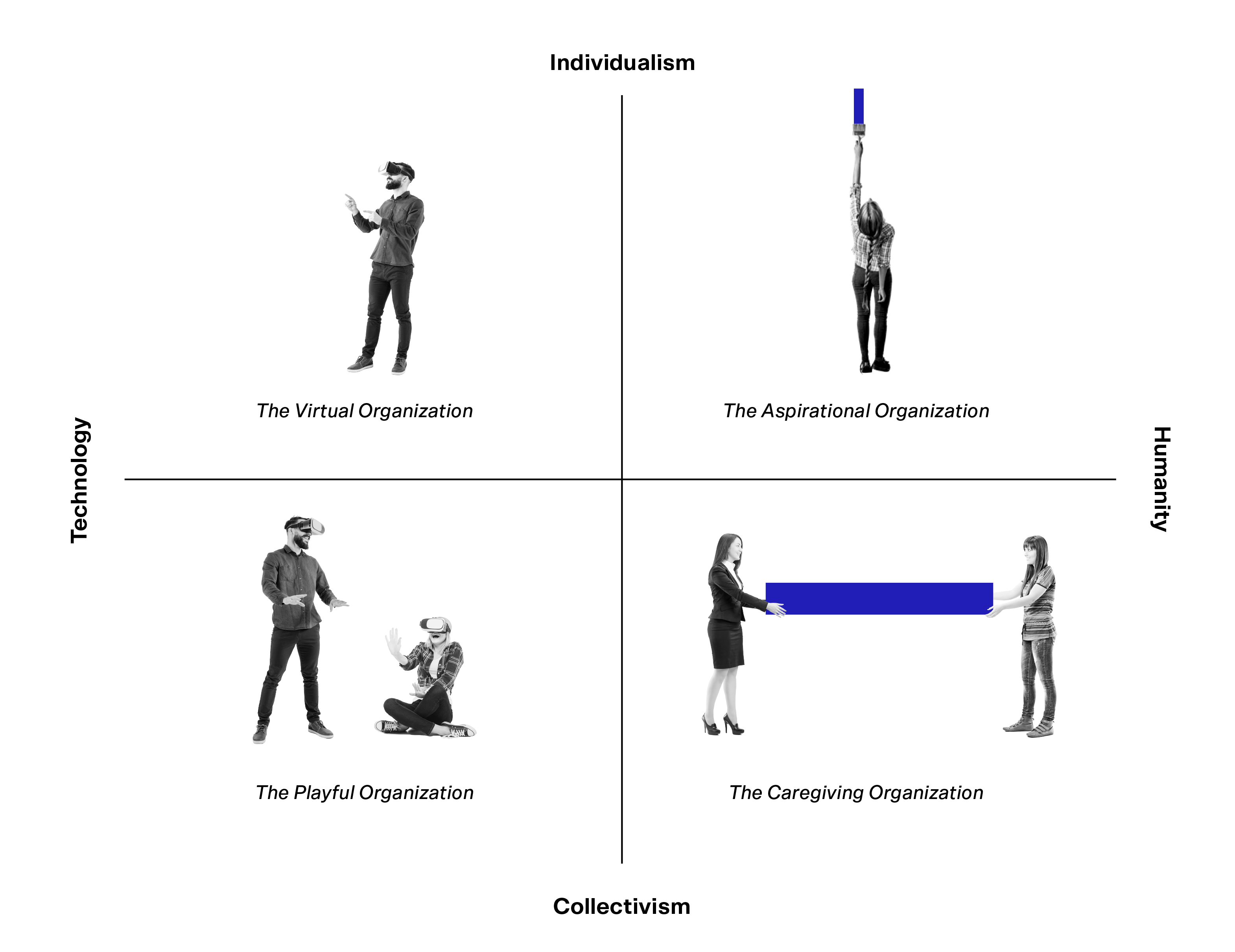 Let's explore how these organizational archetypes reflect how the Future of Work have already started to manifest in modern organizations:

The Virtual Organization:

The virtual organization fosters individualism and virtualization by using technology to enable work from anywhere, which boosts speed, agility, and opportunities. Given the tech-savvy generation entering the workforce, expectations are high and it's clear they'll be looking for new opportunities to collaborate and create digitally at work. Similarly, organizations today are facing pressure from fluid talent markets, flexible working arrangements, and finding hyper-specialized skillsets, which requires flexibility to source talent globally.

Look to Upworthy, as an example, a company without a headquarters. Instead, it says it has a "distributed team" that allows people to work from anywhere. Virtual companies such as Upworthy make it possible for people to work wherever the internet is available. The virtual presence gives companies the ability to quickly scale their operations without dramatically increasing overhead expenses, acquire a broader range of talent, and create happier employees.

As 4.3 million Americans work remotely at least half of the time and remote working has increased 140 percent since 2005, a virtual workforce, especially for young companies, is becoming more of a reality. As the internet enables work from anywhere, the challenges that organizations will face are now: how to foster a strong internal culture, drive creative processes forward remotely, and enable strong internal communication through leveraging alternative technologies that allows for digital interaction.

The Aspirational Organization:

A company's greatest asset is its workforce. A motivated employee will produce better work than a co-worker who is not satisfied with their employer. The Aspirational Organization is a talent magnet, attracting a specific type of employee to a company purpose. This allows employees to feel part of something bigger and strengthens their identity while providing them with the flexibility to thrive.

Incorporating employees into the creative decision-making process allows for a more authentic brand. By bringing various Southwest employees together it allowed them to collaborate, ultimately contributing to a more cohesive workplace culture. Both Employees and Employers benefit from the opportunity of being able to operate outside their daily roles. With the increased quest for purpose, transparency and high ethical standards, organizations that truly stand out and allow employees to make a difference in the world will be the ones that can attract the talent of the future. This is particularly important for Gen-Z, who grew up with an increased focus on organizational responsibilities in society.

The Playful Organization:

Similar to the virtual organization, the playful organization is focused on technology but in a collective atmosphere. Companies that create a creative work environment with a foundation built on collaboration and experimentation are more likely to attract new skill sets from employees who want to feel part of a community.

For an example of a Playful Organization, we turn to the tech giant, Facebook. Facebook has become one of the largest corporations in the world; however, its work environment is anything but corporate. While the organization may have grown exponentially the technology company has managed to maintain its creative tech startup culture. Facebook's key Learning & Development (L&D) objectives are to "promote, respect and foster a culture of continual learning", according to Mike Welsh, Learning & Development Partner and People Engineer at Facebook, The company's L&D strategy is to inspire ambition and learning amongst it young generation of workers.

Initiatives that Facebook has put in place include personalizing the experience for employees with various specified tracks and on-demand classes, providing an "Engage Coaching Program"  that allows managers to have one-on-one time with an executives to get feedback on how to become a better leader. Developing the Facebook Leadership in Practice (FLiP) program for peers and executive team members to provide rising leaders with honest feedback. Organizations that understand how to cater to individual employee needs, establish a culture of respect and learning without the hierarchy, and foster a culture of collaboration and fun will have high chances of attracting next-gen talent in the Future of Work. Critical thinking and entrepreneurship, will be the keys to success however the true power of those skills, in a world that will be increasingly driven by technology lie in EQ. Attracting and promoting softer skills, focusing on STEAM rather than STEM, and making sure that people have access to mentoring, will be key to unlocking the business full potential.

The Caregiving Organization:

By blurring the lines between work life, the Caregiving Organization is able to maximize employee productivity by prioritizing physical, mental, financial and spiritual health. In turn, provided with all this support, employees have the opportunity to succeed, thrive and perform at their best.

Google is the gold standard for a caregiving employee platform. Google tailors' employees work environment to benefit both the company and the employee. Happy, comfortable employees return valuable work as they are treated well by the company. In the office, Google provides employees with a range of perks designed to increase employee productivity and overall happiness. Google believes that happy employees will stay longer and produce a higher quality of work as they are treated better.

Other than providing a surplus of amenities, Google's newest project, North Bay Shores is an all-inclusive community for employees built right outside Google headquarters in Mountain View, California. With 6,600 new home, 35 acres of open space, 16 acres of habitats and trails, as well as 13 acres of neighborhood parks and plazas, North Bayshore will be Google's very own development. This facility will be home to many of the employees who work at the Googleplex located minutes down the road. The close proximity will foster a stronger relationship between the employer, and the employee will feel connected to the business on a whole new level. As a response to the recent macrotrends of urbanization, imbalanced wealth-distribution and increasing stress levels, organizations of the future will need to take more responsibility for their employee's wellbeing, both physically and mentally. Organizations preparing for the future are increasingly understanding the value of nurturing employees to ensure higher performance and longer relationships and loyalty.

Conclusion:

As macro-economic, technological and social drivers change how we will work in the future and a new generation of digital natives prepares to enter the workforce, organizations will have to embrace changes to cater to future needs. As pictured in the examples above, it is crucial to start thinking about how you as an organization can start preparing for the future of work. Where will you position yourself along the two axes? How will you respond to key societal drivers? How can you gain inspiration from organizations that are already one step ahead of embracing these changes? And how can you turn the drivers of the Future of Work into long term strategic opportunities?

Article by Emilia Loie-Andersen, Drew Carlin, Jessi Mardakhaev, and Chris Raccuia.