Thinking
Gen-Z Insights: Why It's Time For A New Brand Strategy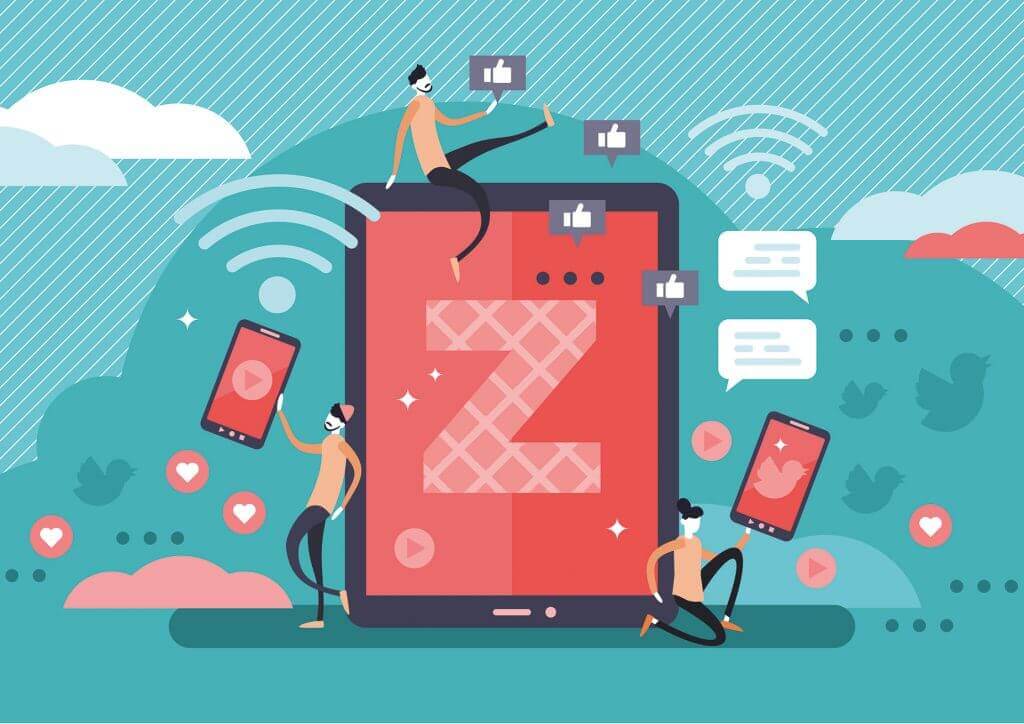 In 2019, Millennials became the largest living adult generation. Many businesses pivoted to cater to this new generation taking over the workforce, buying homes, building families. The true influence in our changing consumer base, however, is an even younger generation. Gen-Z, those born after 1997, range from ages 7 to 24. This young, diverse millennial generation is having a huge impact on the way brands do business.
Does one generation alone warrant a new brand strategy? We think so. Gen-Z influences 93% of household purchases. In the U.S., 82%  of parents admit that their children influence their purchasing decisions. Win over Generation Z and you win over older generations of Gen Xers and baby boomers too. 
Our audience is changing—rapidly. Growing a business in today's world means building a brand strategy that engages the unique expectations of Gen-Z.
Understanding Gen-Z Consumers
What makes this generation of consumers so different? While social media, smartphones, work from home, and other digital trends entered our lives as teenagers or adults, that is all Gen-Z has ever known. These young people are digital natives,  born into a world of online experiences—from social interactions to purchasing—and that is where they spend much of their time.
Gen Zers spend an around of 3 hours per day on social media, far more than any other group. They expect instant results; quick responses from friends, family, or businesses; and media that inspires.
Not to be confused as a generation that only seeks instant gratification and beautiful products, Gen Zers are conscious consumers. They were raised in a recession and are keenly aware of the social, political, and economic tension that has pervaded their young lives. Their decisions are not flippant, although they do value flexibility, change, and risk.
Finally, it is important to understand that members of Gen-Z value progress—politically, socially, and environmentally—and are willing to support businesses that are doing their part to drive change.
All of these distinguishing characteristics of this generation should play a role in the way we develop brand strategy. A strong brand strategy  doesn't simply "appeal" to this new audience of consumers but engages them. In fact, there are 5 key insights into Gen-Z that must be acknowledged in order to build new business models that empower our brands to grow and expand.
Key Insights to Build a Better Brand Strategy
Our goal is to help brands look beyond basic marketing tactics and instead create brand experiences and strategies that reach the most influential audience: Gen-Z.
Innovative solutions to meet the expectations of a generation don't always come easily. In fact, a new business model and innovation strategy require that businesses shift away from thinking in silos and pipelines and towards an integrated model. Brand strategy must be consumer-led, valuable, and seamlessly integrated. This approach allows brands to more effectively engage new audiences on every level, from the foundation of the strategy (consumer-led) to brand-consumer relationship, customer experience, and communication.
These 5 insights help us delve deeper into the Gen-Z audience, how to engage with them, and how to become trustworthy, customer-first brands.
Access Over Ownership
Gen-Z seeks access to products and services that will make life easier, but they don't always pursue ownership. What does this look like tangibly? Gen-Z consumers are more likely to use platform-based products that allow them to rent—not own—the things they need. For example, electric scooters that allow them to get from point A to B without actually purchasing a scooter, or streaming services that establish a month-to-month purchase agreement and no long-term commitment.
For businesses, this requires enabling direct access to products. In particular, many brands are shifting to utilizing platforms and subscription-based services to make their products more easily accessible. By 2025, it is predicted that 30% o f the world economy will be platform-based. 
This challenge to the conventional pipeline of delivering products to consumers is especially important to businesses today. Taking the time now to develop platform and digital ecosystem strategies will prepare your brand to meet these changes head-on.

Hyper-Personalization
Growing up in a digital world means Gen-Z is accustomed to products, services and customer service experiences that are tailored to their specific needs. Having become accustomed to personalised music playlists, this generation will expect personalised shopping experiences and travel planning. More than half of Gen Zers are willing to pay more  for personalized options, which is significant for a generation that also values cost savings and financial planning.
Generic products and less attractive designs are having minimal impact on this up and coming generation. Adjusting a brand strategy to meet this expectation means exploring segmentation axes around the needs, values, and experiences of the consumer. It also means finding a way to either customize a product or personalize a service around the consumers' values.
Anchored in Ethics
It should come as no surprise that Gen-Z values ethics. Growing up among climate change, the #metoo movement, and an increasingly global call for ethical manufacturing standards, they have taken up the call for change on almost every level of society. And they expect our brands to do the same. Gen-Z consumers are more willing to engage with brands that are sustainable, authentic, and pursuing a higher social purpose. 
In fact, a majority of Gen Zers refuse to purchase from a brand that is involved in a scandal. Our product and service branding must not only capture their attention, but our entire brand strategy must be established on trustworthy and ethical practices. Not only that but value propositions must look beyond the simple value of a product and focus on the value of the brand as a whole.
Seamless Experiences
If there is one thing Gen-Z has made clear, it is that they don't have time for long, drawn-out processes. They live in a world that is constantly on the go, and they expect brands to meet them wherever they are in the world. Seamless experiences mean building branding solutions that are fast, smooth, and easy to use. If making a purchase or interacting with a company's service is slow or has too many barriers, Gen Zers will move on quickly. 
A branding strategy that utilizes innovations and creates value-driven customer experiences, however, will keep them coming back again and again. The way we view value propositions must shift. Brand value lies in the overall experience of the consumer, and not only the value of our unique product or service. This transition impacts every layer of business and brand strategy, including the way we choose to build our platforms and interact with our customers.
Capturing Attention
Gen-Z decide in mere seconds if a brand is worth their time and attention. Short, to-the-point content that drives a conversation is how many brands are choosing to engage with Gen-Z. Think TikTok or Instagram Reels. These short video-based social media solutions quickly capture the attention of a young audience. 
Other social media brand strategy examples include Oreo's "Show your playful side" campaign on Snapchat, which invites consumers to be part of the conversation and the brand as a whole.
The challenge brands face is establishing that they are worth the attention of their Gen-Z consumer audience. Building a dialogue with your audience is about more than just great digital marketing. Brand leadership starts with a business model and brand strategy that is integrated, micro-targeted, and tailored to meet the unique needs of your consumers.
Building the Future of Your Brand
Gen-Z is a force to be reckoned with. Understanding their unique consumer behaviors is a significant key to growing and building an effective and innovative strategy for even an established brand. Vivaldi helps companies hone in on the purchasing and lifestyle trends of Gen-Z—and other target audiences—to develop brand strategies and new business models that create extensive opportunities for growth. To build the future of your brand, download our in-depth guide the 5 challenges brands face in engaging Gen-Z, and how to solve them.