Thinking
Vivaldi Team Members Share Their Advice, Superpowers, and Reading Recommendations

During this busy spring season, we asked some Vivaldi team members to share some bits of advice that drive them forward each day and what skills they believe that everyone could benefit from learning. Here's what they had to say:
What is a piece of advice worth passing on?
Yasmina El Muslemany, Strategy Consultant: "Don't be afraid to take risks and constantly iterate your vision of the future."
Kamala Hettich Schmidt-Holzmann, Director: "Strengthen strengths and follow your passion."
Jake Varrone, Senior Writer: "'There are no bad ideas—only bad executions.' This little mantra helps me break through creative walls every day. That and 'Don't overthink it'."
What is your superpower? What skill do you think everyone should learn?
Stephen Firth, Senior Partner: Hyper-relevancy — the ability to connect consumer insights and creativity to the new world of marketing technologies.
Chris Halsall, Senior Partner: The ability to see around corners — it's just a new type of pattern recognition. It's about seeing what's happening in other categories – where new technologies and customer behaviors have shaken up the status quo – and then applying that to shape the change with clients in their categories.
Jake Varrone, Senior Writer: How to write well. When someone can clearly articulate their thoughts on paper, they can achieve whatever they want.
Devin Dewar, Associate Creative Director: TIME MANAGEMENT. Yes, the caps were necessary.
Joana Asshauer, Strategy Consultant: Being able to give and receive constructive feedback. There is always something we can improve on, both in our personal and professional lives. The ability to receive feedback, appreciate it, and positively implement it in your life (as you see fit) is essential to personal growth.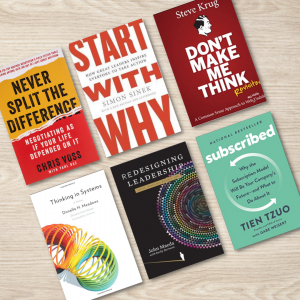 What are some recommended business books?
"Never Split The Difference: Negotiating As If Your Life Depended On It" by Chris Voss with Tahl Raz
"Start With Why" by Simon Sinek
"Don't Make Me Think (Revisited)" by Steve Krug
"Thinking In Systems" by Donella H. Meadows
"Redesigning Leadership" by John Maeda with Becky Bermont
"Subscribed: Why The Subscription Model Will Be Your Company's Future – And What To Do About It" by Tien Tzuo with Gabe Weisert