Thinking
Redefining Productivity in the Remote Era with Bruce Daisley

With the sudden long-term shift from working in offices to at home because of the pandemic, companies and employees face new corporate culture and productivity challenges. Bruce Daisley, technology leader and best-selling author of "Eat Sleep Work Repeat", joined our CEO Erich Joachimsthaler to discuss how the joy of work can create shared value for employees to help drive productivity and innovation. Previously, Bruce spent 12 years running Twitter in Europe, and prior to that was at YouTube in the UK. He has become regarded as one of the most respected thought leaders about workplace culture and the future of work. Bruce taught us the importance of belongingness, managing our productivity flow, and designing new ways to invite creative ideas.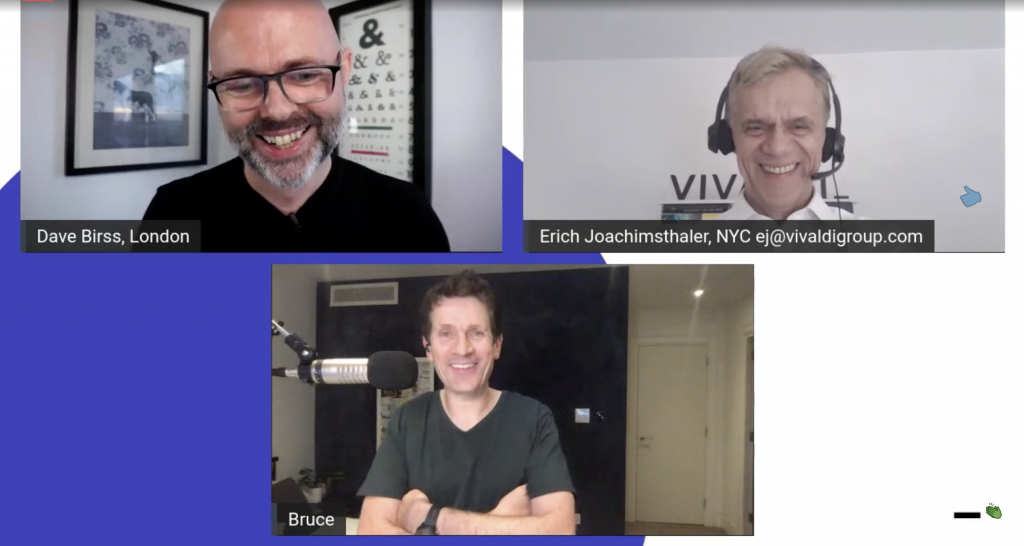 Below find key principles from Bruce Daisley:  
1. To create a good workplace culture, you need to foster a sense of belongingness. Belongingness is one of humanity's highest requirement orders. Our productivity is affected by the lack of these physical interactions during remote work. Recently, companies feel the immense need to have a Community Manager to promote digital engagement and communication of employees and leadership actively.   
Bruce shared his research about people who sleep alone that have micro awakenings. They wake up 15 times a night because we're programmed to associate being alone with the absence of safety as human beings. It is critical to respond to that longing in the workplace— whether it's digital or physical.  
"I've struggled to find any evidence that suggests that belongingness isn't equally as important as those of prerequisites— food and shelter." – Bruce Daisley
 2. Managing energy flow improves productivity. Recent studies have debunked the traditional belief of working non-stop to maximize productivity. Taking breaks and resting are essential when it comes to recouping. Knowing where to start and end your work period is also critical. Bruce suggested integrating a "digital commute" in your everyday routine (such as going out for a walk to get coffee before 8:30 am) to release a signal that you are about to go to work.   
Bruce believes that productivity can be compared to an athlete's training for a sporting event. An athlete does not train for 100 hours straight, but rather just the optimal amount to keep their body in peak condition. Straining and exhausting does not improve performance— it diminishes it.   
"Taking breaks seems to be one of the most effective things that anyone can do." – Bruce Daisley
3. Find time to discover your "default mode." Boredom or low-cognitive tasks invite the most creative ideas. That activity or non-activity is relative to each person. Bruce encourages us to explore those moments and to apply it to our everyday routine.  
In Bruce's article in Harvard Business Review, he explained how to intentionally allow the default modes to take place in the workplace. There was an example of a famous screenwriter who installed a shower in his office because he discovered that he unlocked a part of his brain whenever he took showers.   
"This is a really important thing that people don't understand. It's actually when you're doing nothing when you're hugely productive when it comes to creativity."  – Bruce Daisley
Here are three ways to increase remote productivity in your company: 
Provide space for autonomy in remote work: 

It is critical to allow people to feel like they can make decisions and contribute to co-create shared value.  

 

Plan intentional interactions and listen to your employees' preferences:

 There will come a time when people will start going back to the office. 

Schedule

 collaborative activities on particular days of the week in the physical office to allow work from home flexibility while not sacrificing productivity. 

 

Err on the side of learning from people: 

Encourage those who have been onboarded in the company remotely to build relationships beyond simply making introductions. Inspire your team to deliberately seek out pockets of time to proactively connect and learn from those who have more experience.

 
Conclusion 
The pandemic has forced us to seek new ways to maintain and improve our productivity at home. Fostering belongingness and autonomy at the same time provides opportunities to create shared value. Working intentionally is more productive than working long hours. Deliberately discovering your "default mode" and allowing brief moments of idleness will invite creative ideas. The new norm of the workplace may be challenging but driving co-creation of shared value by thoughtfully adapting to these changes could be the guiding light. 
Watch the full event here:
5:22 – Confessing our relationship with work
6:22 – Bruce's work experience
7:59 – The role of autonomy in remote work, eg. video games
12:18 – Working from home vs. the office
13:16 – How to intentionally plan physical interactions in the office to provide work flexibility
17:10 – The importance of fostering a sense of belongingness remotely
19:32 – The rise of Community Managers
22:19 – Taking breaks improves productivity
23:19 – Incorporating the "digital commute" in your remote working lifestyle
26:20 – How to plan physical office time in the future
32:35 – Discover your "default mode"
36:58 – Onboarding leadership with the new ways of remote productivity
39:56 – Advice for new grads and employees being onboarded remotely
45:10 – Solving working remotely together
This segment was part of The Interaction Field Series of our LinkedIn Live Events. Please connect with us on our LinkedIn page to stay updated with our upcoming conversations.