Thinking
Cultivating an Innovation Ecosystem to Drive Business Growth

Successful businesses don't just happen. They are the result of strategic decisions, innovative thinking, and a deep understanding of the evolving business landscape. In a recent presentation to Laive's executive leadership, a prominent CPG company in Peru, Vivaldi Partner Mauricio delved into the critical question, "How do successful companies grow?" He shed light on the key strategies and principles that drive business growth in today's dynamic environment.
1. Buy, Partner, or Build?
In an era where 52% of S&P 500 companies have vanished from the marketplace, the paradigm for growth has fundamentally shifted. High-performing, growth-oriented companies are recalibrating their strategies for expansion. Surprisingly, a majority—55% of these industry leaders—opt for acquisition as their preferred method of growth, rather than building from scratch.
2. The Value Hypothesis Stage
In their haste to scale and boost revenue, numerous companies overlook the indispensable stage of validating their value hypothesis. Scaling an innovation that hasn't achieved product/market fit is a recipe for failure. Prior to selecting the appropriate tools and strategies, it's crucial to rigorously evaluate the existing uncertainty and evidence.
3. Ambidextrous Organizations and Innovation
Adaptation and innovation are the lifelines of successful enterprises. To thrive, companies must become ambidextrous organizations, capable of balancing traditional core functions with innovative approaches. This agility allows them to pivot, experiment, and adapt as needed.
The extent to which a particular innovation initiative deviates from an organization's core functions dictates the degree of process adaptation required. By identifying the differences among various avenues of innovation, businesses can be better equipped to strategize their path to success effectively.
This isn't to discourage homegrown innovation—far from it. Internal development should remain a key growth strategy. Innovating in areas adjacent to the businesses' current offerings doesn't merely extend their operational scope; it also amplifies the value they create for the ecosystem within which they operate. However, for those contemplating building anew, partnering with an organization well-versed in venture building can offer invaluable insights into adopting a startup mindset and incorporating the venture capital approach, all of which are essential for successful innovation.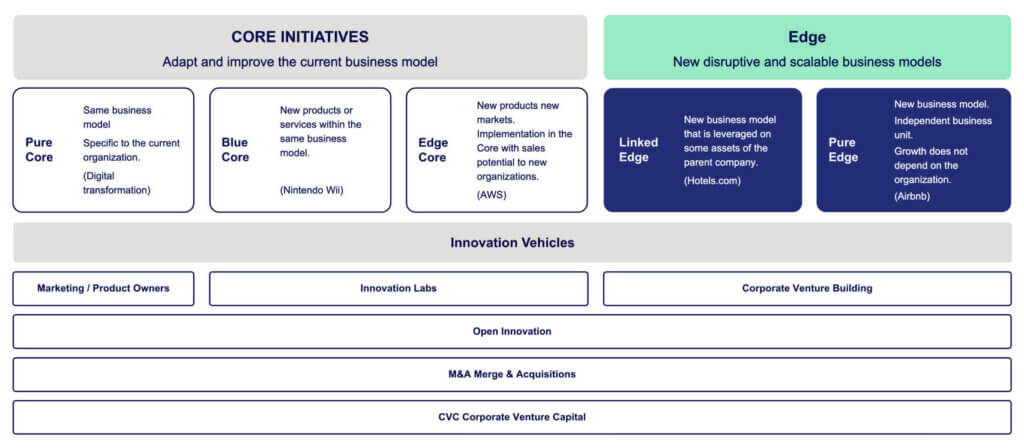 4. A Massive Transformative Purpose
Beyond operational processes, successful companies are fueled by a compelling, overarching vision that informs all their innovation efforts—a Massive Transformative Purpose. While not all organizations are driven by such a purpose, every company should have a winning aspiration that guides their long-term direction. This broader perspective enables companies to see their role in society and fulfill the jobs that need to be done.
5. Ecosystem Thinking
In our interconnected world, businesses and what they stand for no longer stand in isolation. They are part of an intricate web of relationships and dependencies. Embracing this mindset allows companies to leverage synergies and drive growth through collaboration within their industry and beyond. It is imperative to have a mindset that is focused on the creation of value not only for your organization but for the entire ecosystem.
The path to success for companies is not a one-size-fits-all approach. It requires adaptability, innovation, purpose, and an ecosystem mindset. By carefully considering these elements and integrating them into their strategies, businesses can cultivate a thriving innovation ecosystem that propels them toward sustainable growth in an ever-evolving marketplace.