Thinking
Future Generali's 'Masters Speak' session with Vivaldi Founder & CEO

It is undeniable that the way we do business and build brands is changing in this COVID-19 world. But how do we leverage the modern era of connectivity to evolve and innovate in this new world?
In Future Generali's 'Masters Speak' session, our Founder and CEO, Erich Joachimsthaler Ph.D. discussed his Interaction Field model and its context within the new Era of Shared Value.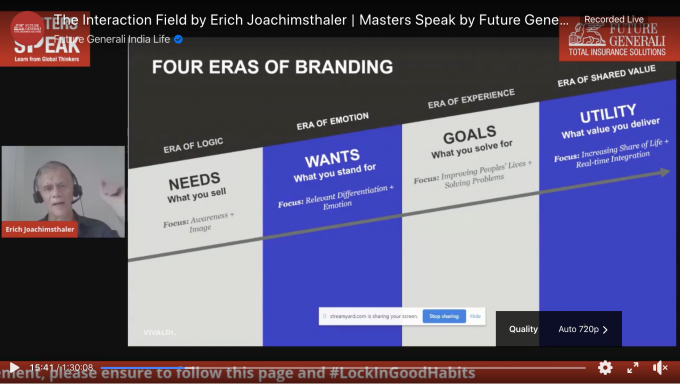 A few key insights:
From tangible to intangible assets.

From the 1970s to the 2000s, there has been a fundamental shift from business focusing on tangible assets to intangible assets. The revolution of branding means that it now takes on a strategic perspective, capturing intangible asset value that companies are creating.

Connectivity is the driver of change.

The evolving ways in which we build brands and businesses are shaped by the Eras of Connectivity – from Information (search, e-commerce), to People (mobile, social media), to Everything (IoT, 5G, AI).

The new era of connectivity breaks down walls.

This new era, the Era of Shared Value (for everyone, not just customers), revolutionizes the way we do business. We are moving away from a World of Walls and into a World of Webs – from competition to collaboration and interaction.

We are all living in an Interaction Field.

Customers are participants in the field instead of recipients of a product, and value is created for everyone involved. By leveraging network, virality and learning effects, the Interaction Field model enables a business to not just communicate, but deliver its purpose.
Hear more of Erich's insights on the Future Generali 'Masters Speak' session on Facebook here.