Thinking
A Running List of Brands we Admire for their COVID-19 Action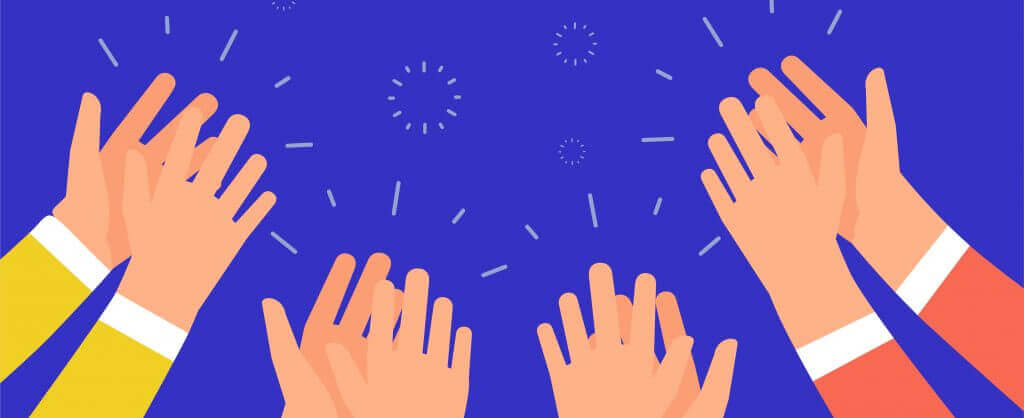 With society, businesses, and individual lives being rapidly upended by COVID-19 all over the world, it can feel as though our newsfeeds are updating with even more daunting developments by the minute – which is why we wanted to provide some respite from the anxiety-provoking news and spotlight brands we admire for their action during this global pandemic. These companies are putting their money where their mouth is, demonstrating their commitment to their larger mission of serving their customers, communities, and the greater good during this difficult time of uncertainty and vulnerability. 
Sweetgreen – Arming Hospital & Medical Workers with Locally Sourced Sustenance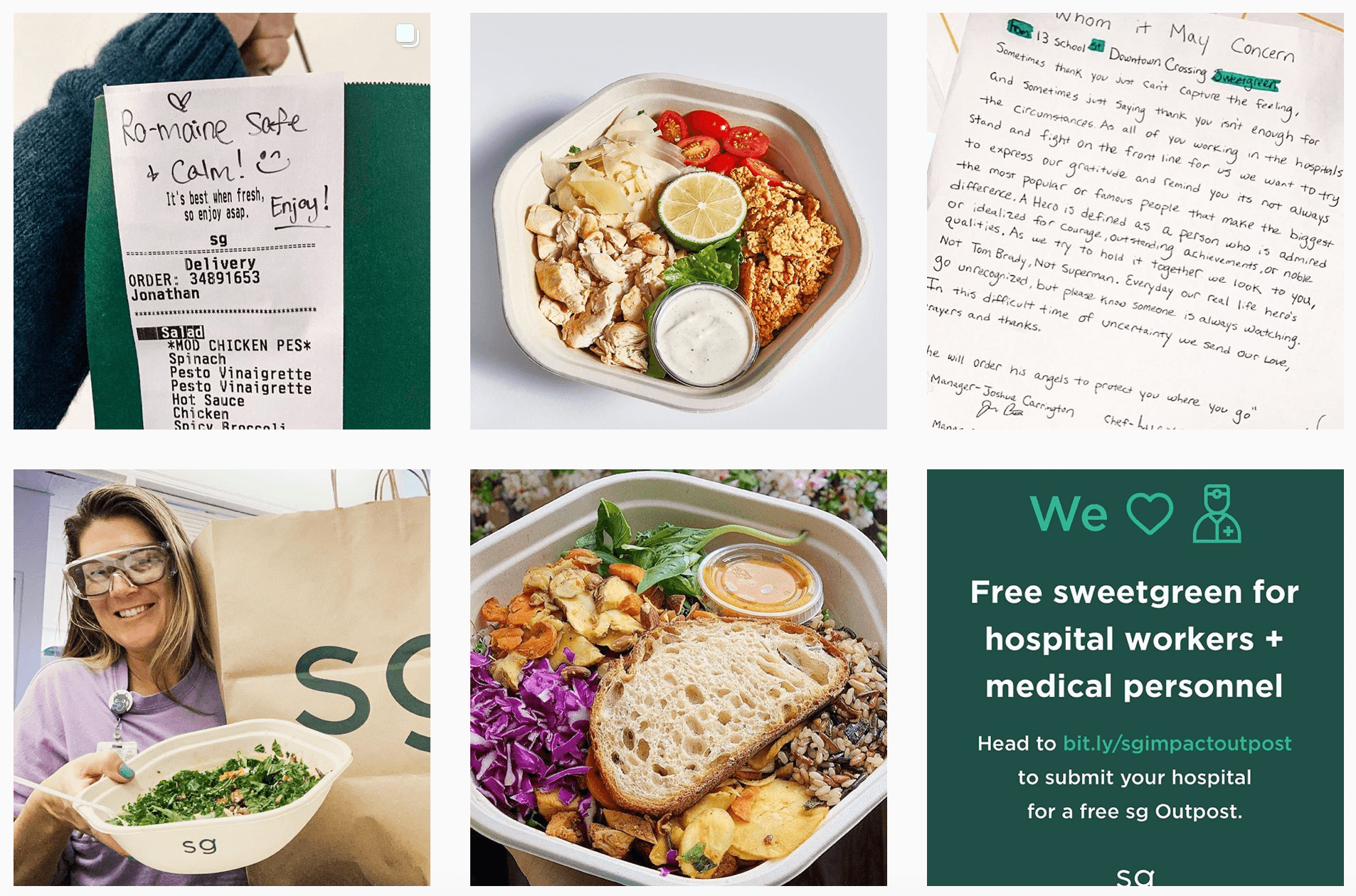 With in-person services and socialization put to a halt until further notice, the restaurant industry is among the hardest hit by this pandemic. However, despite the threat of daunting revenue projections and an unforeseeable future dictated by COVID-19, Sweetgreen – the locally sourced, healthy, fast-casual salad chain – is putting the medical community fighting this pandemic first. Acting on their company's mission "to inspire healthier communities by connecting people to real food," Sweetgreen has repurposed and dedicated its outpost operations to delivering free salads and bowls to the hospital workers and medical personnel sacrificing their lives to combat this crisis.
Vita Coco – Using their Gains to Benefit Communities In Need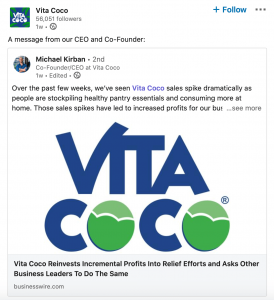 As consumers attempt to prepare as best they can for the unknown and continued disruption to their lives, people are stocking up in droves on the household and pantry items that they deem essential. So, while many other industries are suffering from staggering sales declines, other F&B and household product brands are experiencing the opposite. Among the F&B products consumers have chosen to amass, Vita Coco – a nutrient-rich, shelf-stable, coconut water brand – has seen a dramatic uptick in sales, increasing upwards of 100% across large, key retailers. As Co-Founder and CEO, Michael Kirban reflected on the company's recent spike, he took to LinkedIn to ask, "But when things get bad, shouldn't we be doing good?" Vita Coco has since committed to donate $1MM of their incremental profit gained as a result of this pandemic to organizations directly helping those that need it most. Kirban is also urging other businesses that are in similar positions of privilege to "make [Vita Coco's] donation seem small!"
ClassPass, CorePower Yoga, and Peloton – Bringing Fitness to Everyone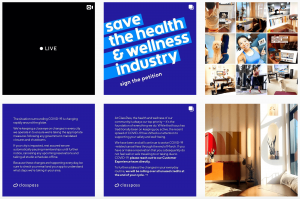 Once flocked to by consumers looking to improve or maintain their health and well-being, workout studios have shut their doors to protect people from the potential spread of dangerous germs that group exercise and shared equipment could enable. As the COVID-19 situation unfolded, ClassPass, the online fitness class booking platform, continuously updated its response with the health and safety of their customers in mind, while also recognizing that the urge to workout and stay fit was not going to go away for their customers. ClassPass' first move was waiving the cancellation fees and rolling over any unused credits to encourage anyone who felt unsafe and/or uncomfortable attending classes to take precautions. Less than 2 days later, as the gravity of the COVID-19 situation became more apparent, ClassPass revisited their plan and put the onus on the company to act responsibly. ClassPass removed the ability for its customers to book any upcoming classes and suspended billing on all memberships until further notice. Despite no money coming in from its members, the company is still continuing 
to provide members access to their audio and video workouts online for free as part of their dedication to "helping people feel their best." Similarly, CorePower Yoga, a cardio-yoga fitness studio chain, has made their special collection of online classes free while their studios remain closed, and Peloton has extended their free trial of its app by 3x to 90 days.
AB InBev, Diageo, and Pernod Ricard – Taking their Inputs to Produce New Outputs
With healthcare workers and consumers alike fearful of the spread of COVID-19, a dire shortage of medical and other disinfectant supplies continues. While some individuals are taking to Amazon to make a killing by upcharging these products by an exorbitant amount, many large spirit manufacturers are temporarily repurposing their operations in an effort to produce and donate hand sanitizers to those who need it most. Pernod Ricard was among the first major distillers to disclose their plan to produce and donate 70,000 liters of alcohol for hydroalcoholic gel. Shortly thereafter, Anheuser-Busch InBev and Diageo, the world's largest beer company and largest distiller, respectively, both committed to donating millions of liters of alcohol to make disinfectant products and distribute them to healthcare systems and workers.