Thinking
On the Road to a New Perspective with Danny Hest

Some companies with narrow approaches in addressing challenges have been struggling over the past few months because of the pandemic. However, others that thought more horizontally to redesign their business have found success in changing the game in the interaction field. TOGO Group is a start-up that focuses on the best digital experiences for road-based travelers. Prior to TOGO Group, its CEO, Danny Hest, was the SVP and GM at Expedia Global Partner Solutions, and VP, Business Development and Product Marketing at Orbitz. Vivaldi's Larry Lucas and Tom Ajello joined him for a conversation to discover a smarter and different perspective in creating growth. Danny taught us about creating shared value in the customer's lifecycle, maintaining balance in services and constraints, and initiating gravitational pull through listening.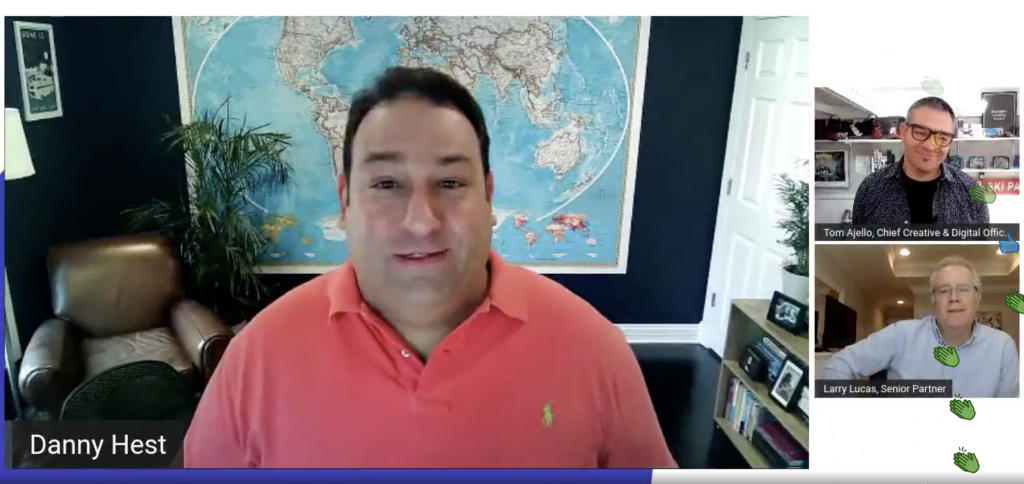 Here are some key principles from Danny Hest: 
1. It's about the journey, not the destination. Creating shared value across different points of the customer journey provides opportunities for new entrants and for those who have gone down the path to experiencing what a company has to offer. Being involved in the customers' lifecycle is more valuable than just being there at a particular moment in their lives.  
Danny shared that TOGO Group ensures they go through their customer's road-based journey, from considering taking a trip to considering purchasing an RV, ownership, and beyond. Through this experience design, TOGO Group can connect and accompany its customer's journey along an otherwise lonely road. 
"I think our vision has gone from let's talk about all people that take road trips to let's really focus on this narrower segment, and then see how deep we can get in solving problems across a number of different areas." – Danny Hest
2. Slow and steady wins the race— realistically. Short term transactional relationships will not be sustainable in the long run. It is important to manage the practical balance of profitability and shared value given a certain amount of time and budget constraints. 
Danny believes that if he initially charges too much from the customers for their offerings today, it will eventually lead to the erosion of trust in the company and be difficult to rebuild it over time. The same goes with TOGO Group's recent partnership with campsites. If it were purely transactional, there will be limitations in shared benefits and growth. 
"We look at trying to make sure that we maintain a balance at all times of the shared value— given that you're being very realistic, where we're at, and what our product offering is at the time." – Danny Hest
3. Listening carefully is the road to social and gravitational pull. Tuning into your customers' frequently used platforms such as Facebook, Instagram, YouTube, and other industry-specific communication platforms will help businesses identify user pain points. Interacting and inserting oneself in the conversation to help solve their problems will provide positive experiences and will naturally make them come back.  
For example, Danny informed us that they heard RV drivers found it difficult to find service centers when they are on the road. Avoiding low bridges while navigating large vehicles is also an obstacle. TOGO Group listened and is now developing features that help customers locate these specific services and information on the map. 
"The trick is to keep that (gravitational pull) going and the way to do that is to make sure people continue to have positive experiences with it." – Danny Hest 
Here are three ways to think horizontally and create a gravitational pull: 
Build 

a 

collaborative advantage through horizontal thinking:

 

Know the limitations and constraints of your business to help determine organizational structures

 that help 

solve

 bigger problems

 in the interaction field.

 

It's not just about bringing the product to the 

final destination

:

 

A company's offering should 

go

 beyond the sales. Ensuring that the experience is 

positive and

 improv

ing

 upon that experience

 

throughout the customer journey lifecycle 

will lead to value creation

.

 

Constantly challenge your own assumptions: 

Understanding the ecosystem and evaluating opportunities by testing and conducting research will help bring f

ocu

s to investments in improvements. 

 
Conclusion: 
If something has been going wrong in your company for a while, it is time to take a turn in the road. It is easy to keep going down the same path without reevaluating the journey. Danny reminded us to hit the brakes to investigate the new opportunities that these challenging times have presented. Being involved in the customer's lifecycle and accompanying them throughout their journey by listening will create value and natural gravitational pull. Getting a good grasp of the balance of offerings and constraints will provide focus on the directions to take. Through this route, companies can activate the network of connectivity in the interaction field.  
Watch the full event here:
4:08 – TOGO Group intro
6:39 – How TOGO Group identifies user pain points and opportunities
7:35 – TOGO Group's vision for the customer's lifecycle
9:01 – Shared interaction vs. Transactional and being realistic about offerings and constraints
12:13 – How to be a good listener
13:38 – Challenges in the RV industry and what TOGO Group does to address them
15:17 – Building features vs. Partnerships
17:16 – Expectations of RV owners and TOGO Group's approach
18:58 – Listening to communities and solving their problems to have positive experiences
20:45 – How to determine opportunity focus
22:03 – How Danny Hest's past experience is pulled into TOGO Group
24:53 – Companies that inspire TOGO Group
26:45 – What TOGO Group is looking for in employees
This segment was part of The Interaction Field Series of our LinkedIn Live Events. Please connect with us on our LinkedIn page to stay updated with our upcoming conversations.