Thinking
Digital Transformation Strategy Never Ends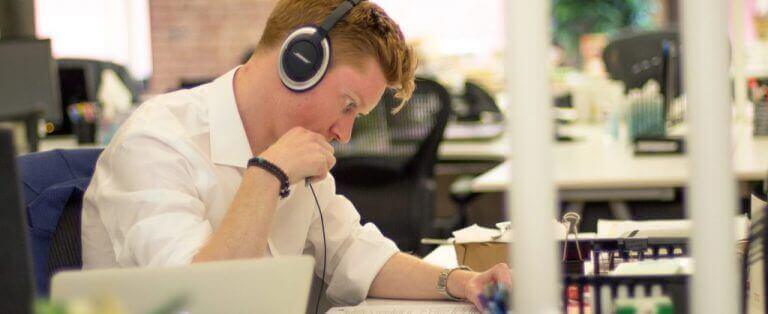 So you've done the heavy lifting – whether full IT infrastructure overhauls or simple website redesigns – and it may seem like you've delivered against your firm's digital transformation strategy. But the truth is that you're just getting started: the entire organization needs to keep on adapting in order to reap the fruits of that investment. That means clarifying and communicating the brand so that it can help accelerate the intended change, living the new spirit of the institution, and equipping the brand to exert its gravitational pull on customers, employees, partners, and investors alike.
So how can you make sure those massive efforts won't be in vain? Here are 5 must-do strategies to get your transformation to fully come alive in the long run.
1. Develop a Powerful Change Story
Powerful, lasting transformations don't happen overnight. Now take the time to celebrate, promote, and further encourage the journey with an engaging brand narrative, giving both employees and customers an insight into the strategy behind those big changes. With a compelling, thoughtful, and thoroughly crafted story, you can align your partners and audience on those shared values and new ways of working together – especially with an inspiring account that ignites a sense of purpose.
2. Fast-track the Cultural Shift
To translate these organizational changes from aspirations to practical, hands-on application, work to incorporate the new mindset into actual daily behaviors and actions. This means identifying and fostering cultural shifts on the team level, championing the individual embrace of new practices and behaviors. And to help break the muscle memory of the now-bygone company era, encourage the visible, consistent endorsement from your executives for the new attitudes and conduct until those habits are fully-formed.
3. Build a Unified Brand Experience, Inside and Out
Once the transformation is in play, it's even more crucial to have a clear point of view about what sets your brand apart from the competition. Now's the time to construct a new visual and verbal identity that's robust and rigorous, fully demonstrating what the company stands for as illustrated in the change story above. But don't be hasty – after all, that's the vision and brand that will be implemented across all customer communications. So be diligent when applying that same business strategy lens to every touchpoint – consistency is key in making these changes last beyond the initial relaunch.
4. Balance the Big Bang with the Long View
On that note, keep the changes coming by cascading them down the line, beginning at the very top. By creating and monitoring pilot programs for mission-critical projects, you can create quick wins and instill best practices from the very start. But that can only happen by equipping your teams with the right tools and training, further building those capabilities that can deliver on your long-term vision. Still, that alone just gets the ball rolling – throughout the entire process, it's imperative to measure and share these new successes, championing those repeatable model behaviors and efforts on an ongoing basis.
5. Leverage Your Brand to Harness Top Talent
Even after reviewing an overhaul, it's crucial to keep building towards tomorrow. Now's the time to take advantage of your transformation to update a brand-led Employee Value Proposition, sowing seeds for the future harvest of your most valuable asset: people. By highlighting your points of difference against your competitors, you'll be motivating both current and prospective employees in a way that's effectively aligned with the new company vision. At the same time, implementing an employee engagement program not only inspires, but continues to drive those behavior changes outlined above, instilling real zeal and passion throughout the organization.
As you can see, when it comes to creating lasting change, there's always more work to be done. And even each of these five strategies need ample time, passion, and commitment to succeed. But that's exactly what will help keep you and your company ahead of the competition – today and tomorrow.