Thinking
Event Recap: Tech is Not the Answer, or Is It?

We are amidst a digital revolution that has fundamentally altered the way we live, work, and what the future of business looks like. Business decisions built around artificial intelligence (AI) and blockchain have unlocked immense economic potential as well as leveraged solutions rooted in personalization and transparency. However, the rise of emerging technologies begs the question, Is tech really the answer?
Founder and CEO of Vivaldi, Erich Joachimsthaler,  joined Frank Pagano (Head of Sales, qiibee), Fabian J. G. Westerheide (founder and CEO, Asgard) and Frederik Gregaard (CEO, Cardano Foundation) to discuss the applications & consequences of A.I. and blockchain, skills needed to succeed in the world of New Tech and what companies need to know about AI and blockchain.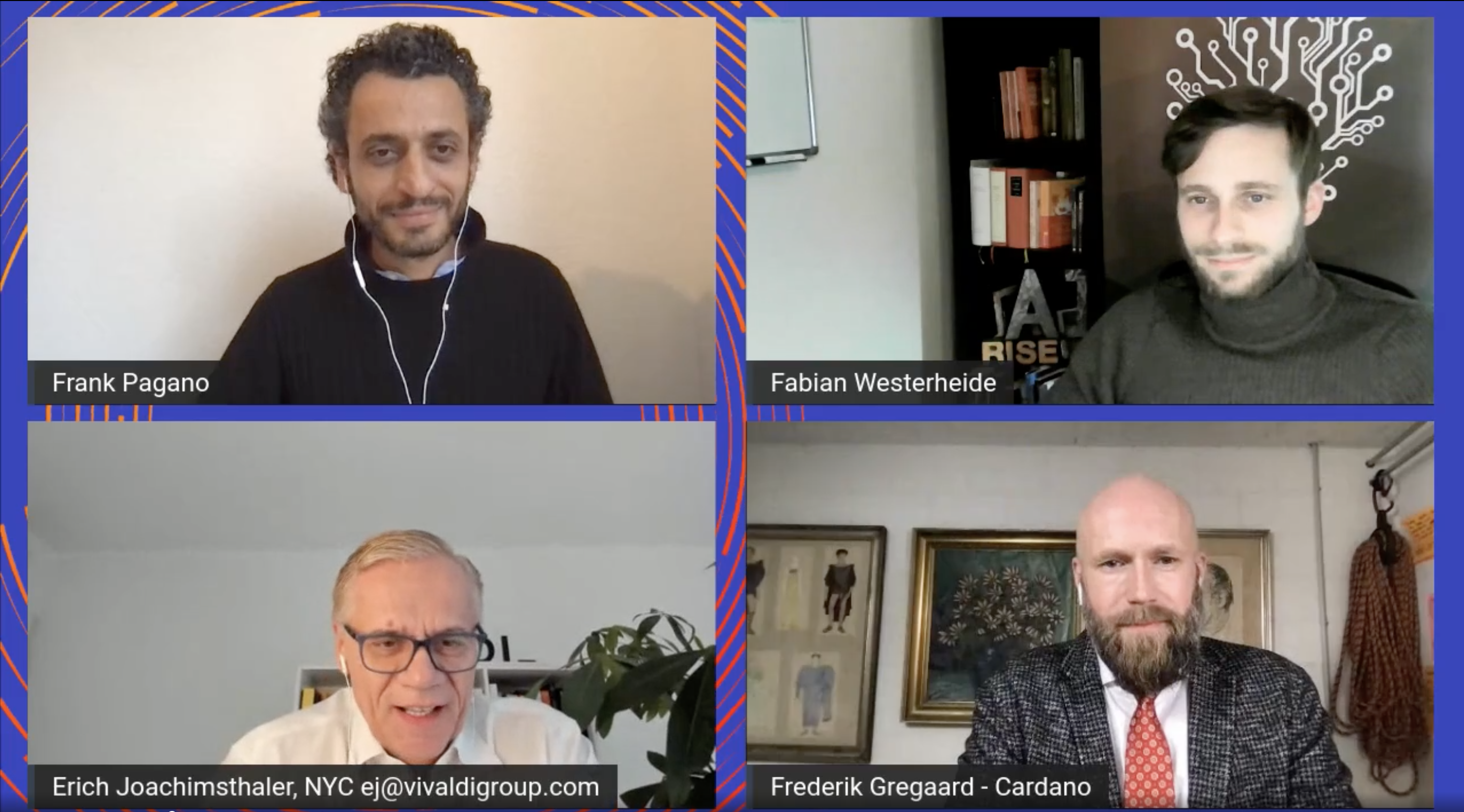 Here are some key takeaways from the discussion:
Some of the best AI is built on top of blockchain. 
In many ways, blockchain is becoming an infrastructure component, not something that the end-user will interact with, but it's going to be the underlying technology for a lot of other technologies and it's going to allow us to put trust first and this use case is underestimated because it will allow us to own our own identity.
"We are sitting in a crisis of trust where the institutions are losing legitimacy and we are now looking towards other places to find that trust and in many ways, AI when built on top of blockchain can be extremely powerful." – Frederik Gregaard
2. Technology is not the answer, the answer is to translate technology into a business model or innovation.
Technology alone is not equipped to solve complex problems but when leveraged as a catalyst can fundamentally change how you drive new innovation and create value in business.
"Technology no longer operates on the supply side; it operates on the demand side. AI is only as good as it operates on the demand side because there are many more consumers out there, so I think it's a fundamental shift in business, which is why this conversation is so important now. Tech is not the answer, it's the means to the end.'' – Erich Joachimsthaler 
3. Overregulation is creating an unwanted intent. 
Blockchain represents a new infrastructure, how we can perceive and can act in the world, which is contradictory to the one we have today because we are not the consumers anymore, we are the product. Blockchain is slowly but surely representing a new way of the system of the world, and that is so much in contrast with how regulation and countries are operating today, which is one of the main problems.  
"We don't need a new regulation for Blockchain, we need to figure out how it fits into the existing regulation. We need to bring clarity for the people who use this on what that means. Regulation is not the answer, we need to ensure what we do in technology is being enabled by regulation." – Frederik Gregaard
Conclusion
It is quite transparent that we are headed towards a more intelligent future. In many ways, we are seeing the crisis of technology right now whether it is the job losses, the weaponization of AI, or social media platforms polarizing the world. With the impact of the 20th-century energy infrastructure on our atmosphere and our climate or the impact of large technology platforms in our society, we are seeing technology create new problems as unintended consequences. While on the other hand, technology has also spurred the fourth industrial revolution, reshaping the industry, making companies more efficient while increasing profit. Tech might not be the ultimate answer, but it is a powerful catalyst when leveraged correctly.
Watch the full event here:
7:20: What is artificial intelligence
9:35: What is blockchain
12:35: Is tech the answer for businesses
15:25: Applications of A.I.
20:25: Applications of blockchain
30:58: Are companies ready for emerging technologies
35:32: Regulation of A.I. and blockchain
This segment was part of The Interaction Field Series of our LinkedIn Live Events. Please connect with us on our LinkedIn page to stay updated with our upcoming conversations.