Thinking
How Competitors can Leapfrog Amazon in Food

In an original piece for Grocery Dive, Vivaldi Partner Pete Killian shares his perspective on Amazon's strategic challenges and examines the ways in which competitors can not only catch up to Amazon, but win a higher share of future growth. Read on to find out how retailers can leapfrog the e-commerce giant by offering a mission-specific shopping experience, implementing private brand architecture, and committing to a specific brand promise.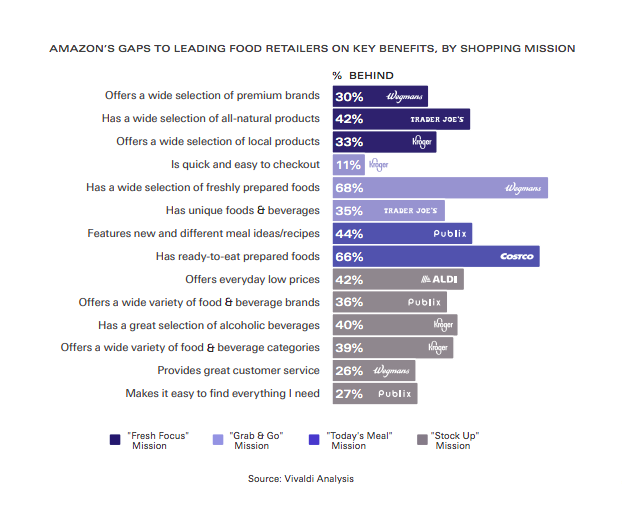 How competitors can leapfrog Amazon:
Create a private brand architecture to support the retail brand. Align your brand portfolio to explicitly support your overall retail brand, and don't let your portfolio run amok. Every new private brand added must have a clear and incremental role (e.g. targeting a different customer segment) and create tremendous value for your shoppers in order to build loyalty.
Commit to private brands, and exercise patience. With astronomical investor expectations, Amazon cannot afford to be patient in building private brands. Competitors can press this advantage by committing to long-term, sustained private brand building efforts. The higher margins that private brands provide will also be critical in the future with more sales going to e-commerce, where shipping costs dilute profitability and pricing pressure is extreme.
Solve online challenges for private brands: Private brands depend on conversion at the shelf, with shoppers comparing price and packaging vs. name brand alternatives. With today's online shopping experience (one page showing one item) this conversion and comparison does not happen. Retailers must innovate their e-commerce experience to highlight their private brands' compelling value.
For more information on how Vivaldi is helping companies across the globe build competitive advantage, please contact us today.