Thinking
Bringing Strategy Back To Life with Dr. David Collis

The practice of Strategy has existed for decades, but there is a persistent question of whether the principles have adapted to the modern world. We were joined by Erich Joachimstaler, the Founder and CEO of Vivaldi, and Dr. David Collis, the Senior Lecturer at the Harvard Business School. With research emphasis on corporate strategy, industry analysis, and global competition, Dr. David Collis invited us to think about the different value types and what Strategy really is today. Dr. David Collis gave us insights about modernizing Strategy, tackling digitalization problems, and the three different types of values businesses should implement.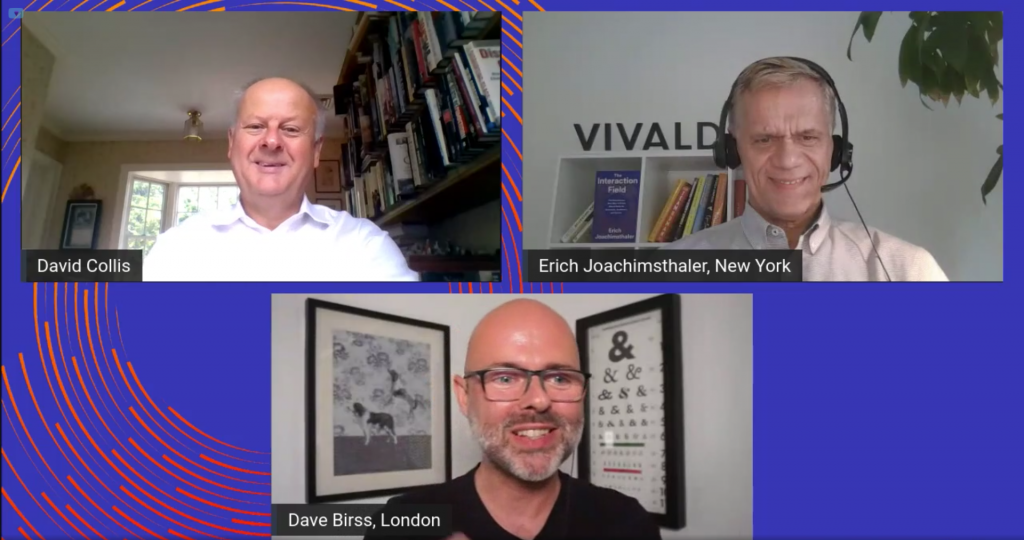 Here are some of the key principles from Dr. David Collis:
1. The way companies perceive and utilize strategy has not been fully transported to the modern era of businesses. There is still enormous value in learning the basic ideas of Classic Strategy, but it is easy to fall in the rumination trap of value capture alone. A Strategy playbook for competitive differentiation or change management cannot merely be a cure-all diagnosis. The Opportunity Set or the shift in the external environments gives cues on restructuring the firm's functional elements to adapt and create different types of value.
"There is an existing strategy. You don't change the strategy, but you change important aspects of the activities of the firm." – Dr. David Collis
2. The downsides of value creation through digitalization also has its opportunities. The biggest problem and concern for companies who undertake digital transformation and platforms is data privacy. There are questions about the possibility of splintering trust among consumers with data collection, but companies can decide on the limitations on what they share in their ecosystem.
A way to view how data sharing could benefit a collective is through healthcare. It is reasonable for customers to be apprehensive about sharing symptoms and treatments, but through data sharing, there have been significant improvements in prescribing, treating, and diagnosing life-threatening diseases.
"I think that consumers are also smart and they say, 'Look, there is a benefit that I can also gain from that or everybody else can gain from that.' It's what we call first-party data." – Erich Joachimsthaler
3. Value has three types: Value Creation, Value Capture, and Value Realization. Value capture has been in the spotlight for decades in strategy but strategizing for all three types of value leads businesses to success.
Value Creation is building your new business models and sustaining it to have a competitive advantage within the ecosystem.
Value Capture is creating a strategic industry resilience and its profitability within the competitive landscape.
Value Realization is answering how the company's offering would be worth to customers through designing administrative and innovation initiatives.
"Is Tesla going to be worth anywhere close to its current value? I would say no, but you get that by looking at the complete landscape of value creation, value capture, and value realization. You have to look at all of them to be able to come up with judgment, and it is a judgment about the potential value of a Tesla." – Dr. David Collis
Strategy Redefined:
Out with the old, in with the New Strategy: The basic principles of Strategy are still relevant foundations, but what might have worked decades ago cannot be applied in modern times. In the growing platform economy today, building new business models within the ecosystem, designing the company's activities, and generating for avenues of value are the more effective Strategy practices.
Increase the Shareholder pie, not the share of the pie: The traditional way of looking at Strategy is providing a share of the company to stakeholders. Maximizing the stakeholder value through value creation provides more universal benefits while still serving the shareholders.
Plan for the three types of value: Value creation, value capture, and value realization allows companies to build resilience through different perspectives and scenarios. Focusing on just one type of value will only solve short-term obstacles.
Conclusion
Strategy is anything but stagnant and concrete. Strategy needs to acclimate itself as businesses shift to platform models and develop innovative business models. Looking into value creation, value capture, and value realization will support enterprises mature into the modern competitive landscape. 
Watch the full event here:
6:05 – Two ways of getting a competitive advantage

 

7:43 – 

V

a

lue

 in classic strategy

 

8:09 – Strategy: value creation, value capture, and value realization

 

10:0 – Why Strategy has not been helpful in modern business models

 

12:00 

– C

ontinuous adaptation is not in traditional strategy

 

12:48

 –

 False dichotomy in strategy

 

15:00

 – How Burger King has changed

 

17:15

 –

 

D

irect value creation

 

19:22

 –

 Ecosystem value creation

 through

 

Kamatzu

 example

 

25:52

 –

 Shareholder value 

and

 share of the pie

 

32:00 

– A

ddress

ing

 prob

lems

 in digital value creation 

 

31:58

 –

 How data collection in healthcare is useful and first-party data

 

36:38

 – 

Walkthrough of how Tesla goes through the three types of value

 

40:06

 –

 

Three types of value definitions

 

42:25

 –

 How can companies start value creation? 

 
This segment was part of The Interaction Field Series of our LinkedIn Live Events. Please connect with us on our LinkedIn page to stay updated with our upcoming conversations.