Thinking
Customers & Communities First: The New Drivers of Marketing with Dartmouth College's Kevin Lane Keller

Now more than ever before, marketing principles have been agile in responding to the consumer landscape's rapid evolution. Author of what is considered the "Marketing Bible" by business enthusiasts, Senior Associate Dean of Marketing and Communications at Dartmouth's Tuck School of Business, Kevin Lane Keller, joined our discussion about the changes in marketing over the years, and the consequential new opportunities that have opened. Kevin gave us insights about the purpose evolution of collaborations, "Marketing Myopia" as a foundation, and the emphasis on investing in building Engagement Forums in modern marketing.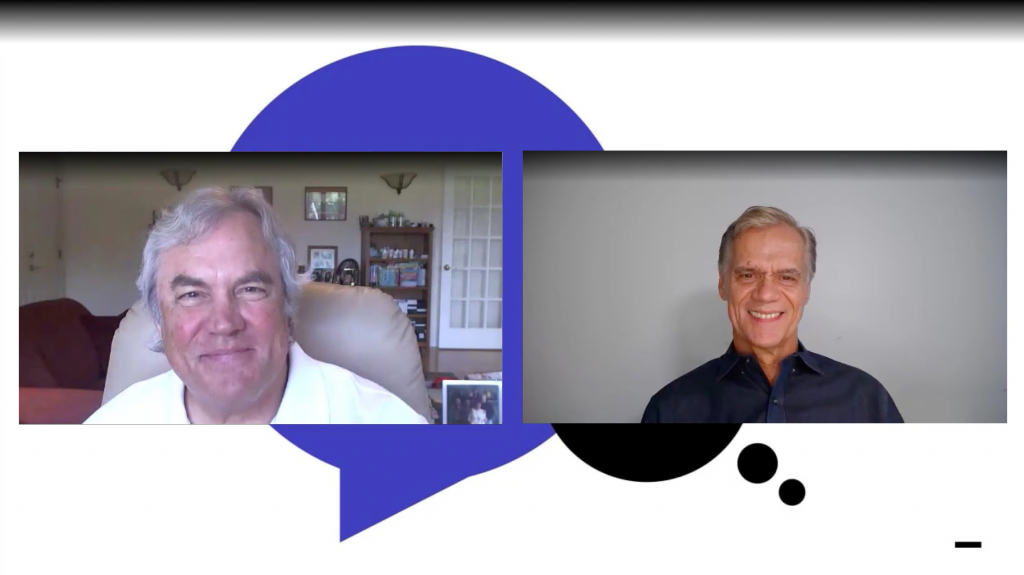 Kevin Lane Keller and Erich Joachimsthaler discussed modern marketing strategies.
Here are some of the key principles of Kevin's Marketing expertise:
1. It is critical to define your product and services, then to determine collaborations. The intent of your company must be clear before considering potential partnerships. All companies are part of a broad ecosystem that serves a purpose and relates to one another.
Collaborating is not something new and has been done frequently in the past, but Kevin expresses how the function of collaboration has evolved into an integral part of marketing. Partnerships tell a story behind the companies. There is a resulting creation of new customer segments with fortified and enhanced offerings.
"It's really important to not think of yourself as a marketer or as a company selling products or services, but that you're satisfying needs, supplying benefits and solving problems." – Kevin
2. With customers driving the company's purpose and direction, marketers are no longer in control as they were in the old push-pull world. In the past, marketers are the ones prescribing how customers consume their products and services. Currently and in the foreseeable future, the customers are the ones creating a culture around the product and services through their natural response.
Kevin stresses how "Marketing Myopia" should still be a solid foundation. There is less of the traditional structure nowadays because of the organic synergies that take place through the audience. It is imperative to pay attention to these interactions that produce signals and opportunities to integrate them into the marketing strategy.
"We as marketers are really orchestrating value creation— orchestrating communications and orchestrating your Four P's rather than designing them all." – Erich
3. The Engagement Forum is the main ingredient in modern marketing. Word of mouth has been migrating to the digital world, but not entirely. When we interact through interest-driven communities in real life, it also becomes a marketing platform. Setting up a forum for these interpersonal interactions, both digitally and physically, has become one of the primary responsibilities of Marketing Managers.
As Kevin and Erich discussed, each of these niche interest-driven communities have varying dynamics and operations. Keeping track of people's social and emotional signals in these communities and responding to them allows relationship building while making it feel less transactional.
"I'm changing knowledge and changing the way people think, feel, and act in a way that is going to help my brand and or help the mission of my brand. I've got to make sure that that happens." – Kevin
Companies need to consider having a "Customer-First" mindset:
Building communities as part of the business model: In the world of hyperconnectivity, value creation is synergetic and not one-sided. The culture built around company offerings and the consumption habits within communities become essential components of the business model.
Letting consumers create the brand: Making customers feel like they are part of the brand's co-creation process will increase their brand loyalty. The resulting interaction themes could be reinforced to help lead new insights and new practices.
Creating value that withstands constant change in the consumer landscape: Companies must connect a business to a brand, not only with the value proposition but also with their promise to the customers. Marketing has evolved over the years, but its value proposition must have an adaptable quality with customers' relationship as the foundation for decision-making.
Conclusion
The rules of marketing are changing as platforms and interactions become more democratized and digitalized. The connection culture of communities, collaborations, and customers have grown to be key players in creating successful company offerings. Orchestrating the organic synergies among these audiences provides informative trends and signals that will allow them to acclimate and demonstrate resilience in marketing's ever-evolving consumer landscape.
Watch the full event here:
9:56 – The next steps in terms of brand marketing 

 

15:24 – The whole is greater than the sum of the parts in building an ecosystem

 

18:14 – The consumer creates the brand

 

31:36 – The importance of brand purpose and communicating it to your audience

 

36:52 – Beyond branding and new opportunities

 
This segment was part of The Interaction Field Series of our LinkedIn Live Events. Please connect with us on our LinkedIn page to stay updated with our upcoming conversations.