Thinking
The New Model for Building Brands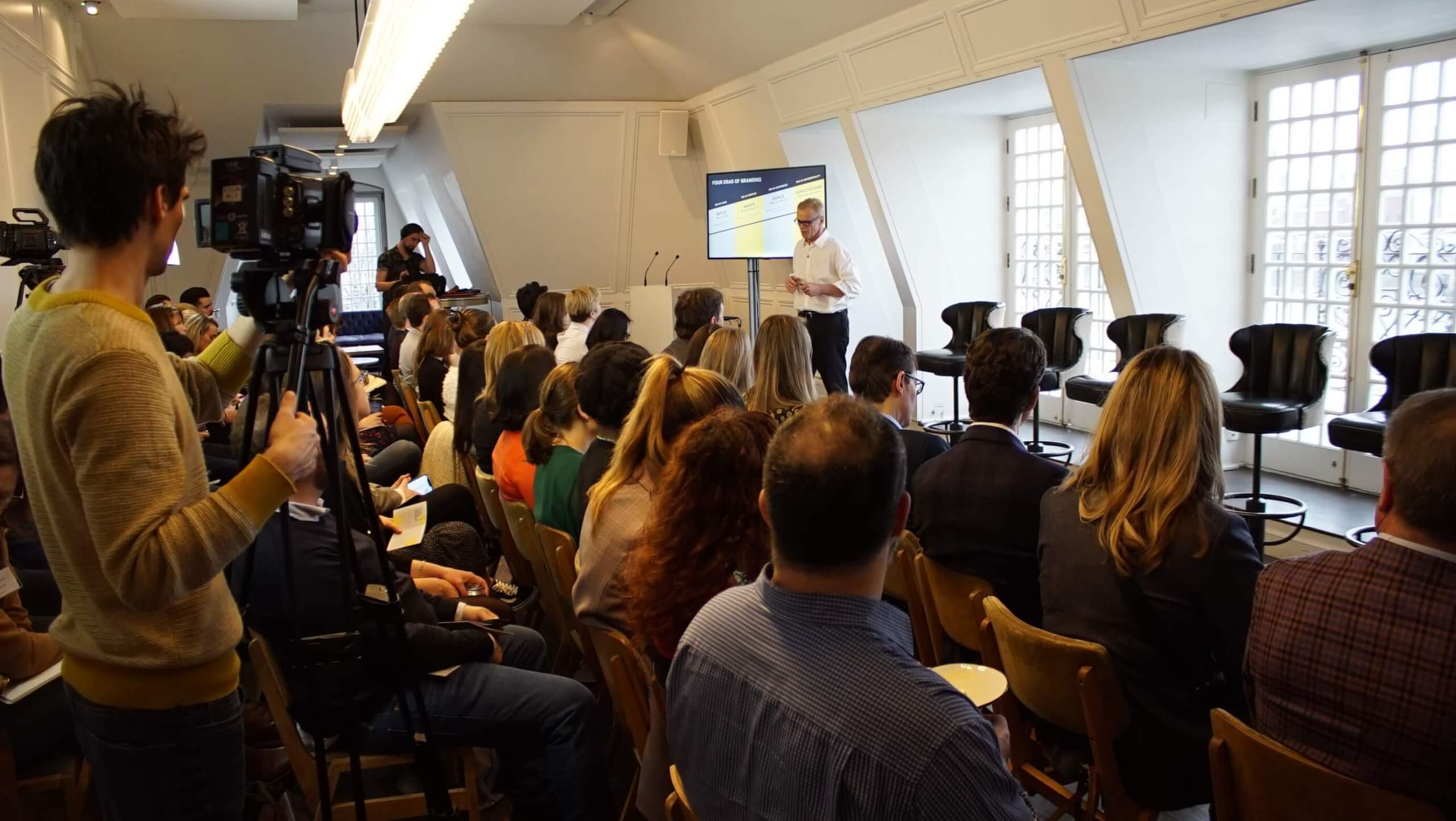 We live in a world of challenged attention, from listening to phone calls whilst browsing social to watching TV whilst tracking football scores. We know we do it and that your customer does the same. Cutting through all which is competing for our attention, whether that be the news, other brands or even friends and family, is too difficult and expensive to be the core of your brand-building strategy.
While some brands choose to shout louder, talk for longer or speak more often, we believe the real answer is a new paradigm for growth.
This was the premise for the event 'The New Model for Building Brands' that took place with over 60 senior client side marketers last week at The Swan at Globe Theatre on London's South Bank where Vivaldi's founder and CEO Erich Joachimsthaler gave a masterclass in what brands need to do to operate under this new paradigm.
Erich's talk, in fact the subject of his forthcoming book, was focused on the new era of building brands, an era that turns the focus from brands living in the insulated ivory towers that the 'World of Walls' created to an age driven by the 'World of Webs' in which brands must build interactions with customers to help re-discover, re-define and re-assert themselves as one of the most powerful drivers of future growth.
Joachimsthaler kicked off by talking us through the 4 eras of branding, starting with the 'Era of Logic', a time when communications were 'needs' orientated, focused on building awareness and image – think Ivory soap. He moved on to the 'Era of Emotion' which was focused on what brands stood for, using differentiation and emotion to create value – cue the MadMen era. The 'Era of Experience' followed this where brands sought to improve lives and solve customer problems – e.g., jobs to be done – and ended with the current 'Era of Exponentiality' with a focus on transforming expectations of the value that brands deliver.
The evolution was brought to life through a surprising example: the company that has outperformed all but one of the so-called "FANG" stocks over the past decade – Dominos. The pizza behemoth's progression from the old model to the new model was  exemplified through the 'eras' from the Era of Logic and the '30 minutes or its free' (along with anecdotes about hiding from delivery drivers) to sponsorship of 'March Madness' in the 'Era of Emotion' to the advent of 'pizza profiles' allowing customers to save their favourites in the 'Era of Experience' to the most recent campaign 'Anyware' allowing customers to order their favourite pizza from virtually any platform which perfectly shows the 'Era of Exponentially'.
At the heart of this progression is the principle of listening to your customers, leveraging their data and facilitating interactions and participation to dynamically learn through action. Principles that Joachimsthaler clearly defined into 4 areas that form the new model for building brands.
With the sound foundation of theory clearly established, it was time to see what this means in reality. Featuring a fascinating mix of more established digital businesses (Skyscanner and Deliveroo), a more traditional business (Hyundai) and a recent start up, a business lending platform coming from within a traditional business (Esme) the panel passionately debated each of the principles and the extent to which they applied to their reality.
Perhaps the most compelling example of the 1st principle of 'Establishing a direct connection with consumers' was given by David Pugh, Marketing Director of Hyundai, whose recent work establishing the 'Click to Buy' offering for the Korean car brand has created the perfect platform to help interact with, learn from and create connections with the car buying consumer.
As a start-up coming from within the firmly established finance brand of RBS/Nat West, the 2nd principle of 'getting consumers participating in value creation' is at the heart of the proposition of Esme. Veronika Lovett, Esme's founder and CMO spoke about how their business's success or failure is built on speed, agility and an absolute focus on being service led, principles that many finance brands aspire to, but few attain. Anecdotally – recently funding a business in 29 minutes and helping an 80 year old fishmonger borrow money for cash flow purposes are testament to their success.
Joachimsthaler's 3rd principle of 'building interactions beyond your portfolio of products and services' and the 4th principle of 'creating a virtuous cycle leading to connected commerce' were hotly debated by Deliveroo and Skyscanner, whose absolute focus on the consumer is at the heart of their work in technology development, business integration and evolution of their offering. Frictionless automation of systems and associated logistics work has propelled Deliveroo to employ over 30k drivers across 200 cities delivering from over 35k restaurants.  Similarly Skyscanner's seamless search, shopping and booking experience has driven them to become the No. 1. Global travel metasearch site firmly becoming the traveller's favourite.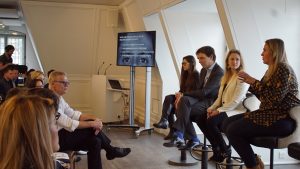 The number and variety of questions that followed the panel session perfectly reflected the interest the new models had piqued in the audience and the conversations went on into the late morning. It was perfectly summed up by one of the senior marketers in attendance who expressed how inspired they were and left saying, 'I am going back to think about my not-being-defined-obsessively by my competitors and start to really get to know my customer and my new competition.'
We're holding similar talks in NY, Chicago, LA, Munich, Dusseldorf and Hamburg in the next few months. If you want to hear live how Vivaldi uses the 4 principles to work with clients 'to write the next chapter' in their businesses, contact us at hello@vivaldigroup.com to get more details.