Thinking
Best of Consulting 2018: Vivaldi Awarded by WirtschaftsWoche's Expert Jury
We were honored to be awarded first place for "Best of Consulting 2018" in the category "Marketing and Organization" and second place in the category "Competitive Strategy" within the project competition held by WirtschaftsWoche, the leading weekly business magazine in Germany.
Both the academic advisory board and the independent jury, composed of top-class company representatives, honored the outstanding customer value of the project as well as the innovative multi-national project approaches that we handed in for the case competition.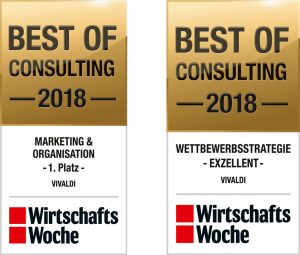 At the award ceremony on November 20th in Duesseldorf, Daniel Rettig, chief editor of the section "Management and Success" from WirtschaftsWoche, handed the seal of approval "Best of Consulting" yet again to the project teams Mario Bartels, Laura Frey, Christian Wank and Dr. Markus Zinnbauer on behalf of Vivaldi.
"We are honored to receive this award and gain recognition for the high quality and satisfaction of our clients regarding the project's lasting success on the market", said Dr. Markus Zinnbauer, Senior Partner at Vivaldi. "The prize underlines our success from the past years including consulting awards such as Beste Berater (Best Consultants), Best of Consulting 2017 and Top-Arbeitgeber (best employer)."
The award for the comprehensive project competition is counted among the most prestigious awards of the German consulting industry. For the 9th time now, the business magazine "WirtschaftsWoche" elected the best consulting companies in Germany in the following categories: Marketing & Organization, Competitive Strategy, Innovation & Growth, Supply Chain Management, IT Management, Digitalization, Public Sector & Sustainability, Restructuring, Financial & Risk Management, and M&A.