Thinking
This Week in Business and Brands: Overturning the Desk(tops), AI Colleagues, and More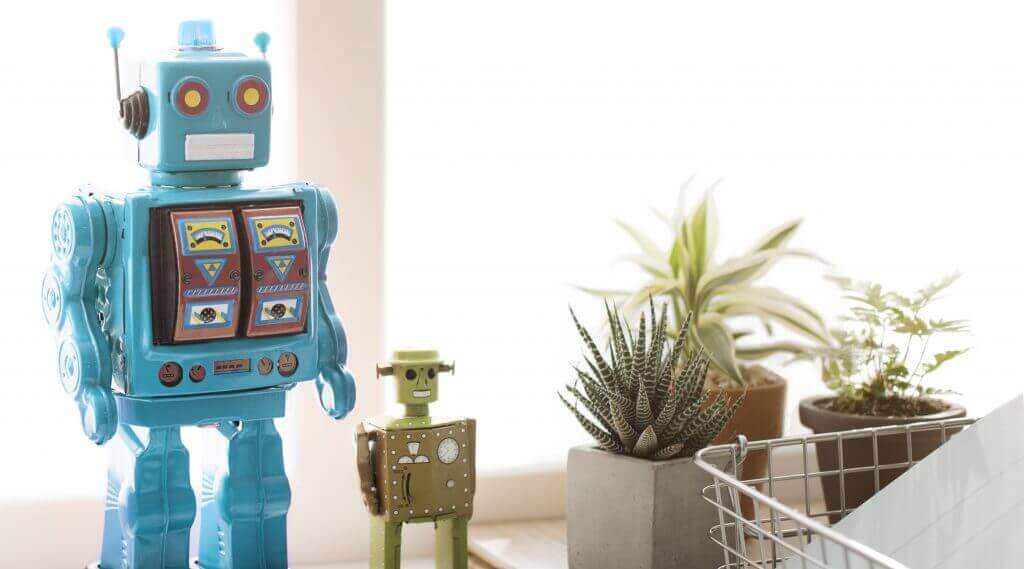 Big Story of the Week Year: Attack of the (Office) Drones
It's not just happening on the assembly line anymore.  As artificial intelligence gets ready to take over administrative tasks at the desk, managers of all kinds must prepare to take advantage of the new tech efficiencies – or they might even become a redundancy themselves.  This will translate to a few tactical pivots, namely:
Delegate administrative work to AI

, like report writing – an effort the

Associated Press

has already begun to incorporate with great success

Refocus their energies on judgment work

, steering strategy based on organizational history and not just rule-following

Make friends with their new synthetic colleagues

, an ethos embraced by

Kensho Technologies

, allowing their plain-language questions to find answers they need in minutes
In other words: the rise of the machines may be inevitable, but with proper preparation, that shouldn't have to mean a fight.
The Elusive Consumer: Caught in the (Mobile) Web
For the very first time, the small screen has now become the bigger arena for internet browsers, and the shift makes for huge changes in customer-centric strategies across all industries.  In the words of StatCounter's CEO, Aodhan Cullen: "This should be a wake-up call especially for small businesses, sole traders, and professionals to make sure that their websites are mobile friendly."  Catching the customer on the go is now more important than ever, as the desktop dust-gathering begins and smartphones and tablets become the go-to source for online interaction.  The majority difference may only be a few points today, but considering the change in direction only began a few years ago, it won't be long before the divide becomes even larger – better take the leap now before the chasm becomes too great to cross…
Talking Tactics, Tête–à–Tête: Heating Up with Arctic Down
This week also gave us some great insight on consumer connection from the CMO of Canada Goose, Jackie Poriadjian-Asch, who offered a look under the (parka) hood and the keys to the 60-year-old company's recent successes.  Takeaways include:
On the embrace of digital

: "Two years ago [we] made the transition from wholesaler to direct-to-consumer; it's with that shift that digital became a top priority and remains at the heart of everything we do today."

On marketing's role in growing sales 500% in 5 years

: "The brand was built largely on street cred and word of mouth…[and yet, this year's] short film secured 300 million views and 62 million OOH impressions…we have always tried to do things differently and swim upstream, rather than sticking with the traditional."

On storytelling in marketing

: "Authenticity is everything…we don't need to create drama or manufacture excitement…there's more to this company than a great logo."
(Well Worth) The Long Read: Real Insights, Real Integration
Consumer-facing companies all know the importance of customer insight (CI), and yet many business struggle to actually incorporate this data into their core strategy.  Pointing to budget constrictions may sound like a reasonable hurdle on the surface, but under closer scrutiny, it may be more of a "red herring" than a true barrier to integration.  Just because an initiative's ROI is more difficult to measure, this shouldn't deter an organization from the untapped potential of CI's long-term value.  For tips on how to surmount these internal obstacles and reap the powerful rewards of a truly customer-first strategy, be sure to check out Boston Consulting Group's thorough analysis above, applying tried-and-true tactics (less is more!) for powerful results.
Video Victory: A Home Run Salute
That's all for this week!  We'll leave you with this look at Nike's quick-turnaround salute to Major League Baseball's new champions – even in New York, we could hear Vivaldi Partner Larry Lucas cheering all the way from our Chicago office!