Thinking
This Week in Business and Brands: The Revolution Will Not Be Televised, a Sticky Skirmish, and More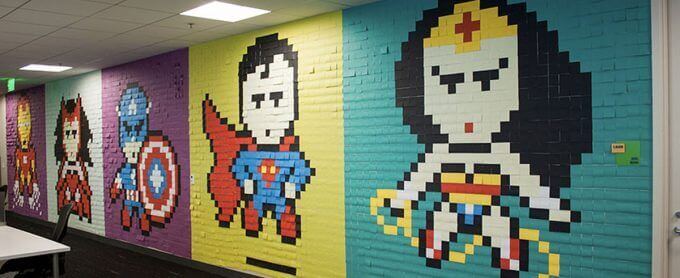 As we find ourselves in the midst of an ongoing tech (r)evolution for businesses and brands of all kinds, there's no question as to whether big change is coming – perhaps the question now is: "What do we call it?" As we leave the Information Age behind, are we now entering "The Experience Age"? Or is this next industrial revolution better described as "Industry 4.0"? No matter which name you choose, the rose of innovation will certainly smell as sweet – at least for those who embrace the new world in earnest. This week gave us a peek into those who are already making strides to adapt, as well as some words of warning for the reluctant traditionalists. Let's take a look!
Go Big or Go Home
First things first: when facing such an imminent (if not necessarily speedy) disruption, this is no time to hem and haw about going all-in for digital adaptation. Turns out a half-way, "hybrid" approach can do more harm than good for an evolving business in the long run.  So what's a larger, slower brand to do?  Think big – big data, that is – as even huge NGOs like the Salvation Army are starting to use information aggregation to now solve problems they didn't know they had.  The first step may be the hardest to take, but there's no doubt that the sooner it's done, the better.
Catching Up with the Consumer
Utilizing big data is just one method of keeping a finger on the pulse of the modern consumer, whose behavior is constantly shifting with the times.  (Or is it vice versa?) While those underlying insights can be powerful influences for brand strategists, sometimes big changes are worn right on the customer's sleeve, as we saw Nike surpass Louis Vuitton this week on Forbes's list of the most valuable apparel brands. Other new behavior was also found outside the wardrobe this week, as the demand for on-demand consumption now extends to the Internet of Things: with Amazon's new AWS Buttons, a single click can seemingly do anything you want – short of clicking itself. Of course, the main driver behind innovation like these is the technology itself, from cloud computing to real-time data collection, which in turn allow advertisers to further tap into consumers' emotional states on the fly for a stronger, more personalized connection.  Coming full circle, such a feedback loop should only make for an even better customer experience, scoring big dividends for brands and marketers alike.
Now Playing: DisrupTV
So what's an industry to do when not only in the midst of disruption, but also bursting at the seams with competitor saturation? In this age of "Peak TV," the effects of streaming and bingeing wield a double-edged sword: the sheer amount of content is higher than ever before, but so is the barrier to entry for newcomers looking to make a quality splash. Networks and production companies are also learning the hard way that when it comes to video content, bigger isn't always better – as 1-minute Buzzfeed videos rake in 3x the viewers of Breaking Bad's season finale, executives are starting to make huge bets on the small screen. And the latest evidence of TV's (r)evolution comes in the form of role reversal, as streaming service becomes producer and network becomes distributor. Talk about coming full circle…

The New CMO: One Role, Many Hats

Consumer behavior aside, this week also supplied us with more great insights into the marketing world, rife with hot takes on the evolving C-suite and beyond. Looking ahead, research firm Gartner made a bold prediction this week: "The CMO of the future will lead the most strategic parts of the organization." Perhaps no other role has such a robust hat rack – certainly 3M's Don Branch feels the effects, responsible for everything from SXSW presence to building consensus within the company itself. Of course, that kind of superlative leadership can be hard to find – so instead it may be best to develop it yourself, using solid principles gleaned from a PwC study of 6,000 senior executives. After all, when it comes to expert advice, two heads (or thousands) are better than one.

A Sticky Skirmish

That's all for this week! We'll leave you with a look at the latest trend in friendly competition between brands: the playful war among window-watchers that's "posting" big exposure for 3M…