Thinking
Vault Names Vivaldi as a Top Consulting Firm

It's been quite an exciting year for Vivaldi. In addition to being named "Best of Consulting" by WirtschaftsWoche, we have been honored by the 2019 Vault Guide as a top 50 consulting firm and a top 25 boutique consulting firm.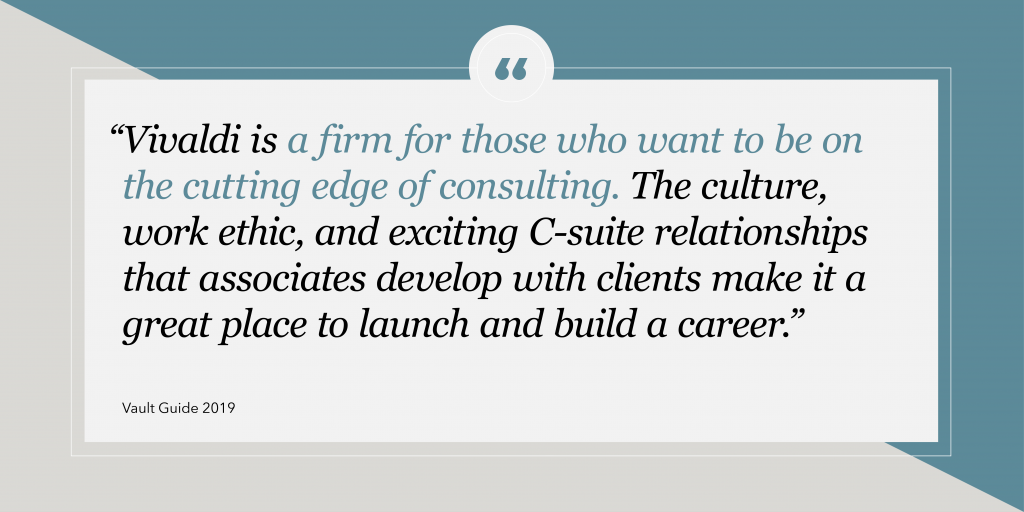 Each year, Vault ranks the best consulting firms based on prestige, business outlook, and overall quality of employment. Vivaldi proudly placed in the top 25 in each of the following subcategories of Vault's rankings:
Overall Business Outlook
Innovation
Satisfaction
Informal training
International Opportunities
Relationships with Supervisors
Interaction with Clients
Ability to Challenge
Hours in the Office
Exit Opportunities
The high rankings this year reflect Vivaldi's commitment to unlocking opportunities for our clients and employees. We strive to continuously write the next chapter by evolving our business to achieve everyone's growth ambitions. Working at-and-with Vivaldi provides a unique opportunity to solve real brand challenges in the age of exponentiality.
Read Vault's complete profile here.