Thinking
Putting the Connected Consumer at the Center of Brand Transformation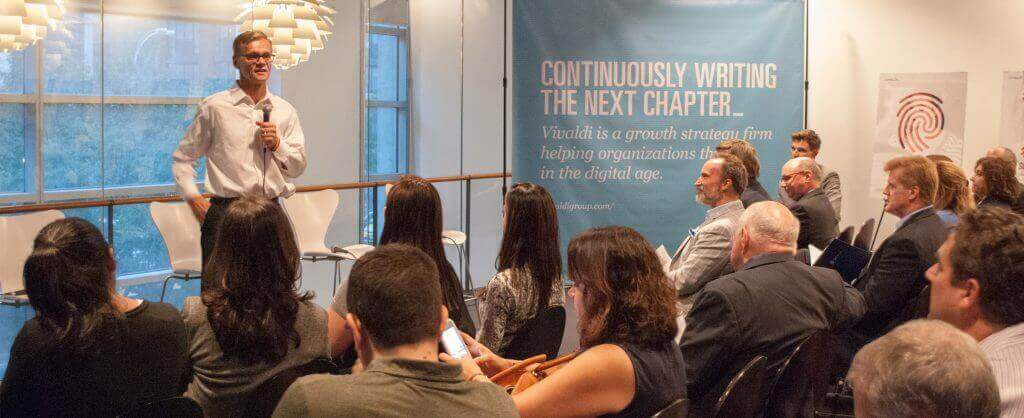 Putting Consumers Back at the Center of Brand Transformation
On Thursday, September 22, Vivaldi and the New York American Marketing Association partnered to host "Putting the Focus Back on Consumers" to discuss the importance of understanding today's connected consumer, given the social, mobile, and digital context in which we live and how understanding their behavior will help increase the success of any business and brand transformation effort.
Our Founder and CEO, Erich Joachimsthaler, kicked-off the evening at a packed Scandinavia House with opening remarks that were both amusing and insightful,  focusing on his favorite metaphor to date — the image of Olympian Usain Bolt outpacing his competitors (8 of the fastest runners in the world!) with time to flash a smile for the camera.
What does it take to stay ahead of the curve in today's fast-changing world?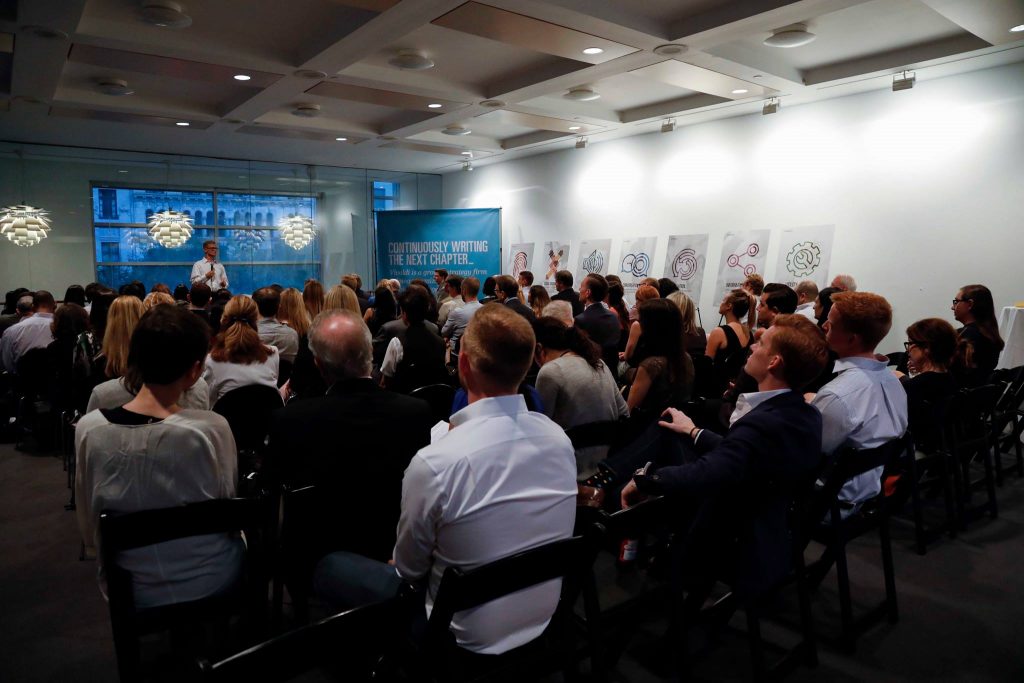 At Vivaldi, we stress not only the importance of understanding the consumer, but the business necessity for brands to anticipate and react to the market's needs in our world of rapidly evolving social, mobile, and digital contexts. Erich refers to this as the Bumble Bee Economy and finds that success is not achieved by those who are first to-go-to-market, but by those who understand the power of their connected consumers and the network effect of strong communities in order to deliver value. It takes engaging customers; shaping and communicating their self-image; and enhancing their social connection and sense of belonging, and thus, entrusting a brand to create more utility – a creating virtuous circle of sorts.
We were honored to be joined by Anheuser-Busch InBev's Head of Insights, Jodi Harris; former Saks' Strategic Marketing SVP, Denise Anza; and Cadillac's Associate Director of Global Research and Insights, Philip Dauchy; for a panel discussion moderated by our own CMO,  Agathe Blanchon-Ehrsam, on how businesses and brands can reach the next stage of growth by making an impact on how consumers manage their social lives. Our panelists were able to provide unique perspectives on how their brands are adapting to the new standard: brands have far less control over the conversation with customers, and expectations that are higher than ever. "It's not about outwitting your customer, it's about becoming meaningful to them," says Philip Dauchy of Cadillac. For example, if email marketing is still important to your company, go ahead; but ensure that it's not generic and irrelevant to your audience.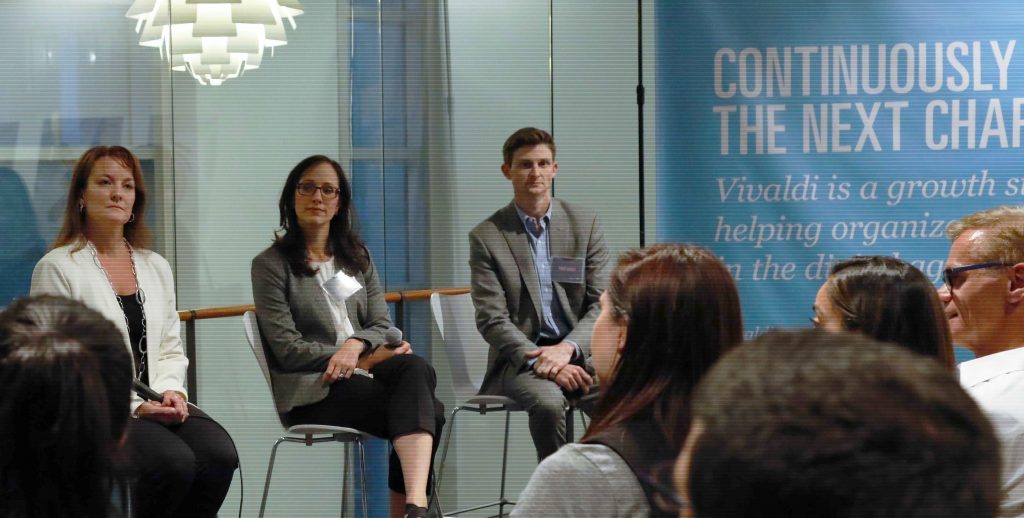 Companies have to create meaningful relationships that transcend functional, disengaged interactions –Anheuser-Busch InBev for example, sponsors music festivals to nurture connections with its target audience when they're actually engaging with the brand, not just purchasing it. Denise Anza, former SVP at Saks Fifth Avenue, stressed that personalization across channels, be it online or in brick-and-mortar stores, is absolutely essential. But if customers are giving up abundant personal information, they expect tangible benefits that simplify their life in return. Philip warned that i big automobile players don't begin to address challenges and needs at a faster pace, competitors at the margins will swoop in and fulfill market gaps. It's evident that consumers are willing to experiment, so it's no surprise that brands should too. A lesson for major players out there: now is the time to leverage your brand name and popularity alongside continuous innovation.
So how do Saks, Cadillac, and Anheuser-Busch InBev keep up and create value for the always-on consumer?
For one, Cadillac and Anheuser-Busch InBev both have new addresses – having respectively picked up from Detroit and Missouri and moved recently to pulsating New York City. In fact, a few blocks away from our Soho office, the revered manufacturer opened the trendy Cadillac House, a low-pressure environment where you can interact with the brand and its cars. It's a perfect example of selling not just a product, but a lifestyle – the space also houses a retail lab featuring upcoming fashion designers and artists' exhibits, so social millennials, who may not even be potential buyers, can 'hang out'. Anheuser-Busch InBev is also all about innovating by putting the focus back on consumers. Jodi explained how crowdsourcing and customer labs are great ways to inspire and test new products – and shared the Lime-A-Rita success story.
Let's not forget about data. Analyzing trending topics on social platforms, relying on predictive analyses, and gathering insights from consumer data are some of the new ways of informing marketing strategies and avenues for growth. At Anheuser-Busch InBev, their 'disruptive growth group' is out to completely rethink size and capacity – right from their social strategy and consumer experience, to their product ingredients and category extension possibilities.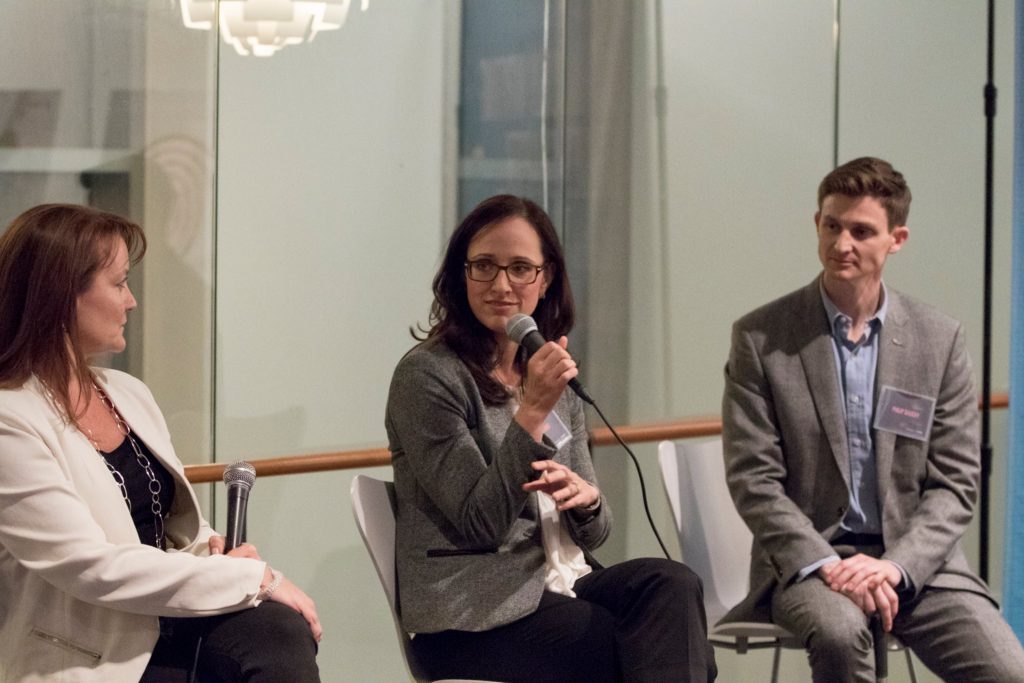 The conversation veered  towards the ever-pressing topic of better understanding consumer journeys. Gone are the times when buying patterns could be encapsulated in a linear or circular framework; we are now in the age of what Erich calls the Flight of the Bumble Bee. Philip noted the importance of flexibility in adapting the purchase process for individual consumers, while Denise shared how Saks has successfully integrated their digital and physical stores so they're no longer cannibalizing each other's market shares. In fact, salespeople at Saks can create their own unique version of the website in order to interact and make recommendations for regular shoppers outside of the store.
Innovation is possible and pertinent in the digital sphere across industries and client types – you just have to find the right model that will build Social Currency for your business. That's where understanding the 7 Dimensions of Social Currency comes into play! The world is changing, and effectively and meaningfully jumping onto the social and digital bandwagon is a necessity for your brand to grow and transform.
Once again, we want to thank the NYAMA, our panelists, our guests, and all of those of who helped make this such a successful event! Stay in touch by emailing hello@vivaldigroup.com to learn more about our upcoming events.