Thinking
Brand Innovation: The Pursuit of Speed, Scale, and Scope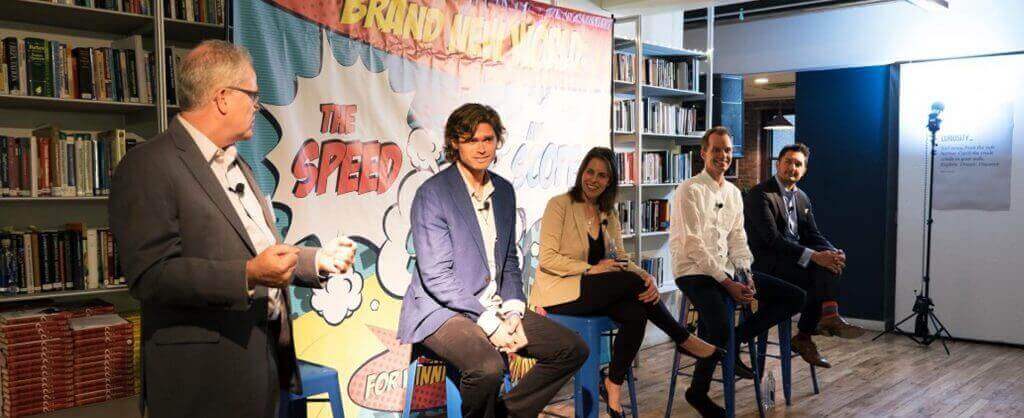 At a time when "it's no longer the big who eat the small, it's the fast who eat the slow," how do you stay ahead of the curve?
We hosted four distinguished panelists on April 20th from Tough Mudder, Birchbox, Refinery29 and Unilever, each of whom reimagines how we view teamwork and competition every day; how we solve our evolving beauty needs, how we stay in the know, and how we purchase personal care products. We brought them together to share brand innovation lessons with regard to speed and scale, the use of data to pivot business models, and how to manage a culture of energy and unconventional thinking – the discussion got off to a flying start.
So, how does one innovate with the necessary speed, scale, 
and scope to win the U.S. market?
A few of the nuggets we gleaned from the discussion:
About changing course: Find the right balance between re-imagining yourself and staying true to the idea you're pursuing. Be ready to let go of what you've built, but don't let go of why you're in this from the start
About framing what you do: "We're not a subscription service, we're a beauty company; what makes us unique in that space is our delivery mechanism, but it doesn't define us" (Birchbox)
About trying new things: Adopting new formats, channels, tools as they become available is expected. "Encourage your people to jump on new opportunities. We have a whole studio focused on VR. And in digital in particular, new ideas tend to be low risk, so why not?!" (Refinery29)
About risk-taking: Keep decision-making as simple as possible to empower teams to try things that feel right: "If it doesn't work, it doesn't work.That's the beauty of the #BrandNewWorld" (Birchbox)
About the consumer insights that matter: "Look for niches, like interests in Korean beauty, nurture them and empower them to grow" (Refinery29); or otherwise said, focus on regional markets and really address their differences (Unilever)
About rapid-scaling: Focus on your niche and bring it to new places; don't lose yourself by expanding beyond niches (Refinery29)
About the pace of change: consumers' expectations are changing faster than ever. They are so complex, nuanced and diverse that it allows for the emergence of many players, in different configurations.
About data: Collect all the data you can, and not just about your products. Ask for all the information that you can get away with asking for, and then "act on every bit of insight, immediately" (Birchbox)
About partnering: Find partners that are mutually beneficial and connected to the experience you're going to create, like Old Spice for Tough Mudder – don't necessarily pursue the one with the biggest pockets, even if you have to sacrifice speed of growth
About platforms: "There's been a major shift in the last few years. It doesn't matter where people interact with our brand. We've opened up and multiplied access points to our content through partnerships with other platforms; shares have become more important than unique hits on our site" (Refinery29)
About the team: "We think of ourselves as a tribe first, and then a brand. So while we need to expand, we need to maintain this core community, and employees at every level are expected to act with the mission in mind, pull up their sleeves and make it happen." (Tough Mudder) And when it's not happening, show them the exit door fast. Recruit for passion, not just capabilities.
About the role of brand: It's important to stay true to the founder's values, one of the hardest challenges as companies scale. You need to know and respect the core.
About loyalty: Figure out how to act on loyalty in the right way, and make sure not to alienate your biggest advocates (Tough Mudder)
About creating experiences: Not every brand can be a lifestyle brand; it's about balancing a portfolio of leadership experience brands and functional brands and allowing each one to play its role to the fullest (Unilever)
About having a sense of purpose: It needs to be part of the DNA of the firm. Everyone talked about the importance of being mission-driven. Unilever takes every decision with the goal of leaving the planet a better place and focuses on a long-term view of broad stakeholder value creation; even to the point of antagonizing the financial markets by refusing to provide quarterly forecasts
About big companies and how to help them become nimble: "How can you teach the elephant to dance?"(Unilever) Large organizations want to grow and they all are making efforts to adapt, but there are also massive problems that need to be solved.
About competing on scale: "Pay homage to your deep resources by sweating the assets." (Unilever)
In conclusion, our panelists all seemed to agree: there's room for everyone to take advantage of the opportunities presented in our #BrandNewWorld. In order to grow a business, it's important to bring all your assets to bear, whatever they may be. Start-ups have the advantage of their nimbleness; incumbents have the advantage of their resources. The panel discussion was truly an invitation for everyone to adopt this new mindset because although "it's gonna be choppy, it's going to be a fun ride."