Thinking
Launching the Always-On Consumer Report

If you were a Social Bumblebee, what would you drink? The Social Bumblebee is the type of consumer that enjoys a trendy cocktail, something totally unique that can be Instagram-ed and shared with friends. We decided that a grapefruit margarita with a touch of honey would be the drink of choice for him. And what about an Ad Blocker who isn't swayed by trends or ads, but knows what she likes? She's not what you would consider an extrovert per se, but she's definitely always up for some fun and has a mischievous side that always seems to peep through. Well, a brandy on the rocks with a party umbrella for that bit of whimsy seemed to be right up her alley.
At our Always-On Consumer 2014 Report launch event, we wanted to bring our five types of Always-On Consumers to life. What better way than to create specialty drinks for each of them? In addition to the Social Bumblebee and the Ad Blocker, we gave a lot of thought to what the others would drink:
The Deal Hunter is looking for a good value, and spends a lot of time researching. He finds that these magnums of wine are reasonably priced and taste like something far more expensive.
The Mindful Explorer is an early adopter of new brands and products and so the Bronx Brewery beer catches his eye. Now, he's a loyal brand advocate of the niche beer.
The Focused Problem Solver is purposeful in her activities. She sticks to tried-and-tested brands, and that includes drinks. A classic Cape Cod does the trick for her.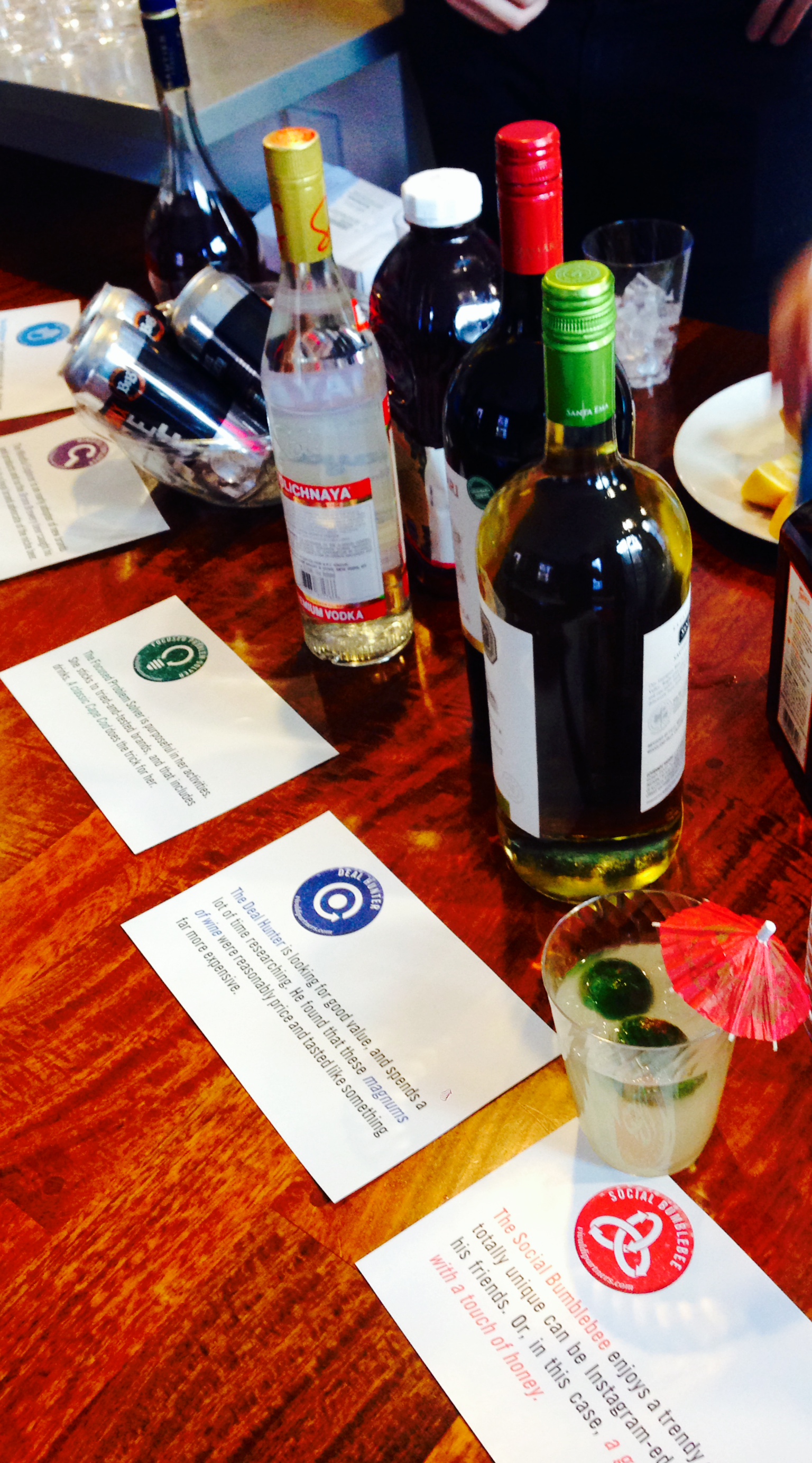 While our guests at the event could switch between a Deal Hunter drink or a Mindful Explorer beer throughout the night, we did ask a short survey of all of them to find out what type of Always-On Consumer (AOC) they were. As they arrived, they were greeted with a button letting them know which type of AOC they were.
Interestingly, among our group, we had many more Ad Blockers (29%) than in the general US population (20%). We also had far fewer Focused Problem Solvers at only 7%, versus the typical 18%. Guests were encouraged to talk to each other to find out the answers to the "game" we handed out. The game had a series of statements and the attendees had to deduce which statement best fit which AOC type.
During the event, we took a pause to have a short presentation by VPG Associate Partner Tammy Tan and Fifth Season Executive Director Agathe Blanchon-Ehrsam. Tammy and Agathe went through the findings from the report (downloadable in PDF here) and dove a little more deeply into the five different AOC types, as well as the implications of these consumers for marketers. A lively discussion ensued about the behaviors of the different types and of the Always-On Consumer in general, as well as the best ways to market to them.
Finally, at the end of the night, everyone was fueled by grapefruit margaritas (by far the most popular AOC cocktail of the night!) and, hopefully, some new knowledge. A week later, we've gotten some great feedback from our guests about the report and their thoughts since the event. We're eager to continue the conversation on Twitter (@VivaldiPartners), so join us even if you weren't able to make the event. We'll even send you a virtual grapefruit margarita (via emoji, at least!).