Thinking
Brands and Social Networks: A Flash Survey
This week, we released "Brands and Social Networks: New Findings on how consumers connect with brands." The report, in conjunction with our research partner Ipsos, looks at why consumers follow brands on social networks, why they stop connecting with brands, and what brands can do better. We found that consumers often connect with brands on social networks for personal, not social, motivations. Contrary to the prevailing thinking, far fewer consumers state that the reason for connecting with brands is to engage or to connect with others who like the brand.
It turns out only 33% of those who have connected with a brand on a social network do so because they want to connect and engage with other customers of a brand. Also, only 44% want to recommend or connect their friends with their favorite brand. In fact, only 43% are motivated to share ideas for new products or services. The primary reason for connecting with brands was to look for special deals and events (73%).
Also, 56% of consumers disconnect by unsubscribing or "un-liking" from a brand or company on a social network.  The most popular reason for "un-following" a brand was because "There was no real value" (22%).
We assessed the performance of brands across six dimensions of Social Currency: Advocacy, Conversation, Affiliation, Utility, Information, Identity. Social currency is a term we pioneered to describe the degree to which consumers share a brand or information about a brand with others.The results show that there is enormous room for improvement.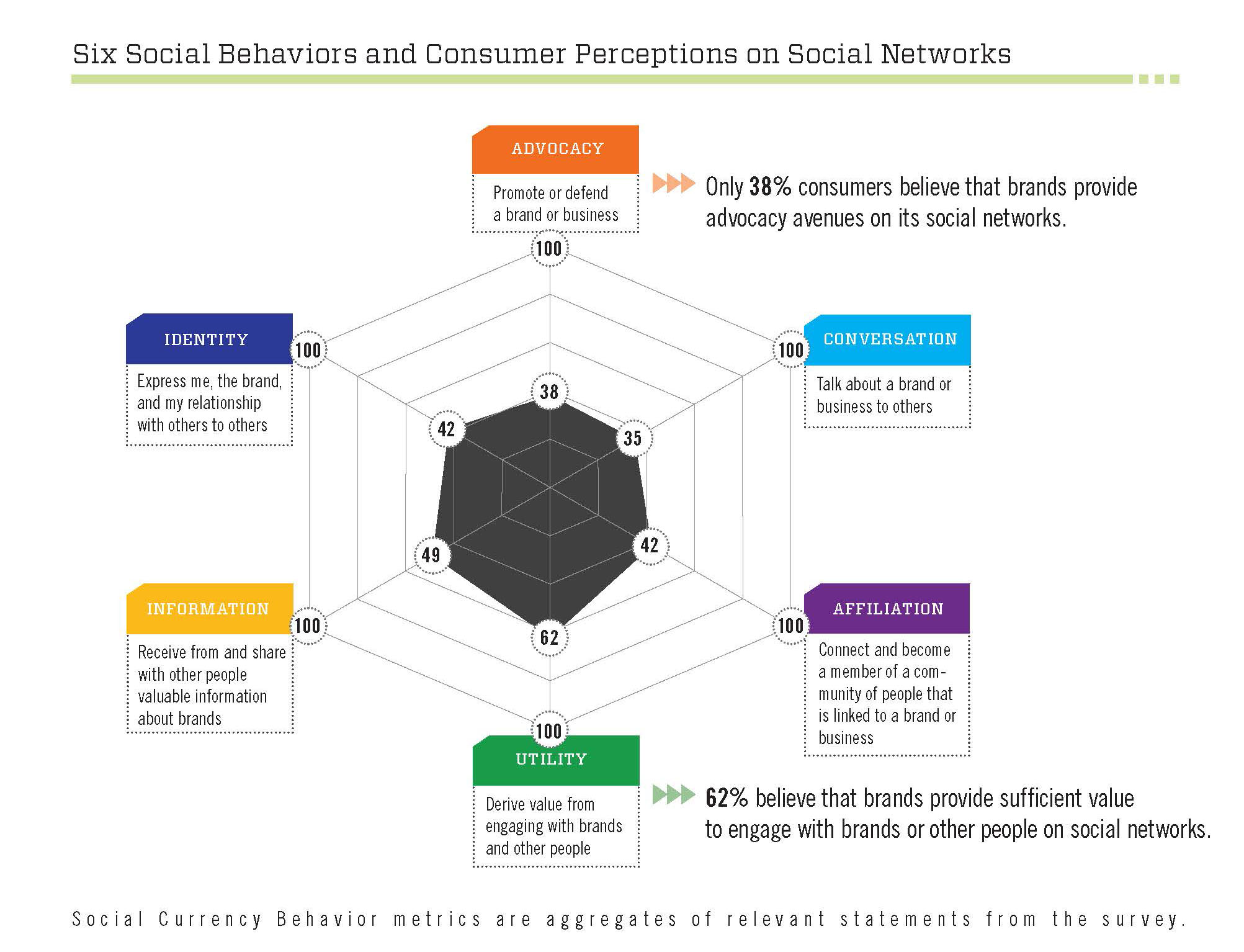 Currently, only 38% of consumers believe that brands provide them with the tools or means to promote or defend a brand on social networks (Advocacy). Even less – 35% – believe that brands provide sufficient motivation or incentives to talk about a brand to others (Conversation).